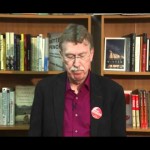 Alison Redford's new broom not enough for voters.
by Penney Kome

"It's time for a change," said the woman at the doorstep as she accepted an election brochure. In fact, her neighbour had just said the same thing. After 41 years in power, Alberta's Conservative government has worn out its welcome — ironically, just as the party is returning to its Lougheed-style Red Tory roots, under Premier Alison Redford. The big question is, will Alberta slide backwards and embrace the Danielle Smith's Wildrose Party, with all its Social Credit echoes, or will it find a way to move forward to a more progressive government?
Early polls (March and early April) had the PCs and Wildrose neck and neck, at about 33 percent each, although a few polls showed Wildrose ahead by as much as ten percentage points. That's the bad news. The good news is that, when two strong parties split two-thirds of the vote, sometimes a third party can run up the middle and win with a slender plurality.
Liberal candidate Fred Stenson hopes PCs and Wildrose will split the vote.
Calgary Mayor Naheed Nenshi won by running up the middle in 2010, when TV personality Barb Higgins and long time City Councillor Rick McIver split the city's conservative vote. Nenshi ran a long, intense, and media-savvy campaign, and captured 40 percent of the vote (with an increased voter turnout). McIver took 32 percent of the votes, while Higgins attracted 26 percent. Do the math: two conservatives dividing up 58 percent of the vote equals a potential window of opportunity for non-establishment candidates.
Of course, Nenshi's campaign manager, Stephen Carter, is now war room manager for Premier Alison Redford, a new generation Red Tory. She won the party leadership in October 2011 with a strategy of recruiting non-Conservative women to join the party in order to vote for her as leader. A smart and dedicated human rights lawyer, Redford has extensive international experience, which no doubt serves her well on her frequent trips to Washington DC to promote Alberta oil.
As Premier, Redford inherited an administration in disarray, starting with a broken health care structure, re-organized over twenty years from dozens of local boards to nine regional boards and finally to one Superboard that imploded messily. Nor has public education been thriving, with schools closing, long bus rides, elementary school parents facing annual fees of up to $185 per child, and post-secondary tuition increases in double digits.
The Conservative platform envisages a network of 140 multidisciplinary Family Care Centres spread across Alberta, along with Continuing Care Centres for long term care. Parents would receive tax credits for registering children in physical activities; post-secondary students would receive larger grants and loan rebates.
| | | | |
| --- | --- | --- | --- |
| | | Wildrose party leader Danielle Smith attended university along with Ezra Levant and Rob Anders. | |
Opposing Redford in the polls (though not in the Legislature) is Danielle Smith, Leader of the Wildrose Alliance Party, registered in 2008. Smith earned a BA from the University of Calgary, where she was president of the Conservative Club. Other prominent Conservatives who attended the U of C at that time included Ezra Levant and Rob Anders. Internship with the Fraser Institute followed university; then positions with the Calgary Herald and Global TV, leading to a position as provincial director for the Canadian Federation of Independent Business.
An aggressive speaker, Smith is poised, polished, articulate, and very telegenic. She identifies herself as a fiscal conservative and libertarian, and said recently she doesn't object to same-sex marriages or abortions. However, her party includes social conservative heavyweights such as former Alberta Reports publisher and editor Link Byfield. In fact, most Wildrose candidates are white, male, and new to politics — although they may be used to speaking before audiences.
For example, Allan Hunsperger (Edmonton-Greenway) stated on his pastor's blog a year ago that gays would end up in the "eternal lake of fire, hell." And more recently, Wildrose candidate Ron Leech (or Dr Leech, as he prefers, based on a degree from Christian Life School of Theology) told listeners to a multicultural radio station phone-in show, "I think, as a Caucasian, I have an advantage. When different community leaders such as a Sikh leader or a Muslin leader speaks they really speak to their own people in many ways. As a Caucasian, I believe that I can speak to all the community." Later he apologized, and said he had meant that being white would not be a disadvantage for him in representing a multicultural riding, and public.
On Monday, Danielle Smith herself told a reader in an online newspaper forum that the science on climate change is "not settled". The media promptly dubbed her, "Dani the denier". Subsequently, Smith and many Wildrose candidates canceled all their media interviews and public appearances.
The Wildrose platform promotes "wait time guarantees" for certain surgeries, a phrase which translates into a glorified voucher system for seeking private health care. Also in the platform: a so-called "conscience clause" that would allow publicly-paid officials (marriage officials, medical workers) to deny certain services to members of the public, such as same-sex couples or pregnant women.
"Danielle, this is Alberta, not Alabama!" exclaimed Liberal leader Dr Raj Sherman, during the televised April 12 Leaders' Debate. Sherman is a real Alberta maverick, South Asian roots and all. He became Liberal leader in September 2011, having crossed the floor from the Conservative side after being suspended from that caucus since the previous fall, when he dared to criticize the government over emergency wait times in Alberta. As Liberal Leader, Sherman's profession, and that of his colleague, former Leader Dr David Swann, lend the parties a certain authority on the health care file. Also in the Liberal platform: eliminating elementary school student fees, and gradually phasing out all post-secondary tuition fees.
"Neither of these conservative parties can be trusted with our essential public services, with our health care, our education, or with our environment," NDP Leader Brian Mason wrote in his blog, as he prepared for the debate. "Instead, they"re committed to looking for opportunities for their friends in the boardrooms to make a profit. That means privatized healthcare, cuts to services, and unfairly low taxes for the wealthiest Albertans and corporations, and the lowest royalties in the world."
Mason's career in Alberta politics spans more than twenty years, since he was elected to Edmonton City Council in 1999. He won a by-election in Pam Barrett's riding when she left in 2001, and won two more elections as Edmonton Highland-Norwood's MLA. In the Legislature, Brian Mason has developed a reputation as a strong defender of Alberta families, and has led the charge to reduce utility rates, auto insurance premiums and skyrocketing rents.
The NDP is fielding some interesting candidates, particularly in the Edmonton area. Friends of Medicare president David Eggen is running, as one of four candidates with official support from the Alberta Federation of Labour in this election. The other three are: Deron Bilous, (Edmonton Beverly Clareview), Cindy Olsen, (Edmonton Manning), and (Shannon Phillips, (Lethbridge West). The AFL also supports incumbents Brian Mason and distinguished labour lawyer and occupational health defender Rachel Notley, elected Edmonton-Strathcona MLA in 2008.
In short, Alberta's election involves far more than than an elbowing match to see which of two parties can get farther to the right. High voter turnout on April 23 might well indicate that the "throw the bums out" mentality prevails. Who gets in is another question. Barring a landslide, the handwringing is liable to continue late into election night, as the election is decided riding by riding and voter by voter. Ridings that are too close to call may require recounts.
Mix and match, fix and patch. Eighty-seven seats divided by four parties (remember, the Alberta NDP won 16 seats in 1986 and '89 to form the official Opposition) just might equal two 30-seat Conservative parties, which would be a stunning leap forward (from four seats) for Danielle Smith, and a stunning setback for Alison Redford. In the new 87 seat Leg, 30 seats wouldn't give either party a majority — not like the 72 seat majority Ed Stelmach left to Redford.
"I'm worried about one of those creepy Conservative marriages," said Liberal candidate Fred Stenson (Calgary-Lougheed). A high-profile author in Calgary for his award-winning Western novels and screenplays (not to mention twelve years as "Wit" columnist for Alberta Views magazine) Stenson jumped into the provincial race from a feeling of duty — the second time that David Swann asked him personally to run. "This riding is winnable," he insisted, based on voting records.
Yet the post-election nightmare could be real. Losing the majority could damage Alison Redford irreparably. She has been more popular with the public than with the party Establishment. Not a single Cabinet minister supported her leadership bid. She has publicly clashed with Finance Minister Ted Morton, and former Cabinet minister Gary Mar. She introduced changes to MLAs' pensions that encouraged many Klein-era MLAs and Cabinet ministers to announce in advance they would not stand in this election. Her departure would clear the way for the Conservatives to merge with the Wildrose Party, under Danielle Smith.
If the idea of an upstart right-wing party taking over Progressive Conservatives sounds familiar, obviously, something similar happened with the federal Progressive Conservative party and the federal Alliance party, under Stephen Harper. And the result would be similar: Alberta would swing hard right, socially and economically.
However, if we consider the Canadian propensity to prefer their provincial government to be run by a different party from the federal government, and give a little credit to Albertans for being able to compare the federal government to the Wildrose party, then other possibilities emerge. Calgary TV commentators are speculating openly about the possibility of a minority Conservative government, with the Liberals and perhaps the NDP holding the balance of power.
Since the March election call, polls have consistently shown up to 24 percent of voters are undecided. A hard-fought but balanced debate dashed hopes of the event revealing a clear winner. Alison Redford held her ground, mostly, although all the other party leaders seemed more aggressive towards her than towards one another. Danielle Smith may have gained some momentum, briefly. The Liberals stopped bleeding voters to the (red) PCs in the polls, and one recent poll showed Wildrose supporters migrating to Liberal or NDP support, bypassing the PCs altogether.
To judge from the impatience that people expressed during door-to-door canvassing in a hitherto Conservative riding, many voters are open to at least talking about change. Alberta's electorate is grumbling. And beneath the Conservatives' feet, the earth is rumbling.
*****
Other parties also in the Alberta provincial race:
The right wing Social Credit party is a rump of its former self. The party has a platform but its candidates (if any) are on their own. The SocCred website celebrates "a successful Spring Convention at the Fox & Hound Sports Bar in Innisfail on March 3, 2012". Presumably, the Innisfail Fox & Hound pub is bigger than a telephone booth.
Conversely, Alberta's EverGreen party has risen from the ashes of the defunct provincial Greens and is off to a toddling start, with candidates in 25 ridings. EverGreen responded to the Leaders' Debate with a news release calling for urgent attention to dealing with climate change, looming water shortages, green economy innovations, and the links between environmental contamination and health care costs.
Glenn Taylor, leader of the crowdsourced Alberta party, live-blogged in response to the debate. The Alberta party has pledged to do politics differently, by patiently building consensus. Led by Taylor, former Mayor of Hinton, Alberta, the party fielded 38 candidates, offering policies built from a province-wide survey called "The Big Listen", held in 2010.
Penney Kome is an award-winning author and journalist who has published six books with major publishers. She is also the Editor of Straight Goods.
&copy Copyright 2012 Penney Kome, All rights Reserved. Written For:
StraightGoods.ca