Bill creates exclusive club for environmental protection: Charlie Angus.
by Samantha Bayard and Ish Theilheimer
OTTAWA, October 30, 2012 — Straight Goods News: Among the top surprises in the latest Harper government omnibus budget implementation bill are changes to the Navigable Waters Protection Act.
News broke Tuesday that although most of Canada's lakes and rivers will lose protection under the changes, about 90 percent of the waterways that would remain protected would be in Conservative ridings.
NDP ethics critic Charlie Angus says this shows the Conservatives only represent elite interests. "Ninety nine point seven percent of Canada's lakes and rivers are being just abandoned so it's only point three percent that's protected," he told reporters after Question Period.
One that will remain protected is Ontario's Lake Rosseau. "It's where all the Hollywood millionaires go," Angus said.
Another protected area is "Lake Joseph, where it costs $5 million for a cottage. It looks to me like they're saying there's going to be an exclusive club for environmental protection — and the rest of Canadians, well, you know — you boat users, you lake users, well, you can just buzz off. That's not right."
Charlie Angus think it is unethical to protect some lakes and not others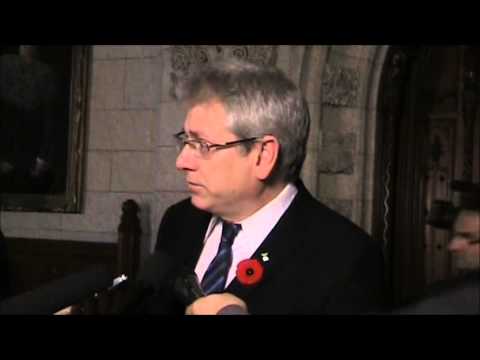 Angus described the issue as both environmental and ethical. "Are you telling me that 12 lakes in the small riding of Muskoka are worthy of that much protection when the rest of Canada is getting nothing? This is about the government — and Mr Clement — once again acting like the Gazebo King. This is unacceptable. We're talking about the Canadian environment. This is an ethical abuse."

&copy Copyright 2012 Ish Theilheimer and Samantha Bayard, All rights Reserved. Written For:
StraightGoods.ca