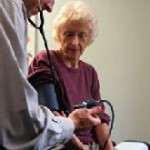 Recent report documents "new and complex" forms of health care privatization.
from the Canadian Union of Public Employees
Montreal–A recent report published by Marie-Claude Premont, professor of law at l'Ecole nationale d'administration publique in Montreal, documents new and complex ways doctors, private clinics and brokers are charging patients for priority access to health care paid from the public purse.
Premont analyzes the context in which user fees and two-tier health care are growing, including changes in regulation, payment methods and corporate structures that influence this trend. New business models and corporate medical practises heighten concerns about investor interest trumping clinical judgement.
"The response of public authorities…towards penalizing certain behaviours that contravene the law or medical ethics has been weak."
.
Since 2007, Quebec has allowed doctors to organize their medical practice as a corporation with share capital. This corporate structure is one of several new pressures on medical clinics to increase revenues, all possible factors in the growth of user fees.
Examples include:
Charging patients annual membership fees upwards of $1,000 for faster access to family doctors. In what the author calls a "highly polished ruse: clinics give "members" priority appointments, utilizing separate waiting rooms and phone response systems to disguise the practice;
Charging patients to consult specialists, especially pediatricians;
Brokerage fees for quick access to a specialist;
Specialized medical centres charging patients $8,000 to $15,000 for surgery, ostensibly to cover facility fees and uninsured staff;
Bribes solicited by some specialists;
Rural health cooperatives charging annual subscriptions of $30-$175 for access to doctors;
Telemarketers selling a $228 checkup.
"The response of public authorities (especially the RAMQ and the ministry of health and social services, but also the College des Medecins towards penalizing certain behaviours that contravene the law or medical ethics has been weak," says Premont. This weakness, making it possible to engage in some of these practises with impunity, is undoubtedly another factor encouraging their development."
&copy Copyright 2012 Canadian Union of Public Employees, All rights Reserved. Written For:
StraightGoods.ca