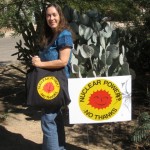 CNSC lures Ontario communities with bogus promise of big bucks.
by Penney Kome
From December 3 – 5, the Canadian Nuclear Safety Commission is holding hearings in Courtice, Ontario, with an unprecedented three different items on the agenda. The meetings had to be postponed from September because of the number of intervenors. Ninety groups or individuals will present in person; at least as many have submitted written presentations.
NorthWatch researcher Brennain Lloyd talks about issues now before the CNSC.
In this exclusive SGN video interview, Brennain Lloyd of NorthWatch describes the issues and dynamics involved with these hearings. Intervenors have ten minutes to address:
re-licensing the Darlington nuclear reactor;
re-licensing a high-level (fuel grade) waste facility; and
a proposal to refurbish Darlington.
For many environmental groups, the radioactive waste issue is urgent. Currently, the wastes are "imperfectly stored" at the reactor station, said Lloyd. She cited a decades-long hunt for the perfect geological formation that would isolate fuel waste in perpetuity. Now the regulators have abandoned that hunt, and "any rock will do." One proposal is to bury low and medium level wastes deep below the surface of the Bruce generating station, on the shore of Lake Huron.
As well, the CNSC has invited Ontario small cities and townships to participate in a "National Infrastructure Project" — otherwise known as a nuclear dump — advertised as being worth $16 – 24 billion. Twenty-one communities have agreed to be studied as potentially the site for high-level nuclear waste — mostly without the local people knowing anything about it.
Lloyd said that the CNSC is trying to reassure municipal councils that the radioactive material decomposes over time, so that eventually there will be no radioactivity left. Two key factors are omitted from presentations, however. The first is that decomposition can take centuries, if not millennia. The second is that decomposition means the radioactivity is leaving the material — and potentially going into the local air and water.
&copy Copyright 2012 Penney Kome, All rights Reserved. Written For:
StraightGoods.ca