Sustenance farms destroyed so corporations can grow corn for biofuels.
from Oxfam
Globally, an area more than double the size of British Columbia has been sold off in the rush for land. That's land that could feed nearly 900 million people — the number of people who go to bed hungry every night.
Oxfam's research shows that land sold as "unused" or "undeveloped" is often being used by women to grow food, raise livestock and collect water and firewood for their families. But because women have very limited ownership of land to begin with, it is even easier for companies to take this land away from them.
What is a land grab?
When profits are being pocketed while poor women lose their livelihoods, rights and access to much needed resources, land acquisitions become land grabs. Land grabs:
violate human rights;
fail to consult affected people;
don't get proper consent; and
happen in secret.
Get the facts
2/3 of foreign land deals take place in developing countries with serious hunger problems;
Countries with most foreign land deals are those with the poorest protection of people's land rights;
60 percent of land deals over the past decade have grown crops to produce biofuels rather than food.
Land grabs: the real story from Guatemala
Live ammunition and tear gas were used to evict the people of 14 Mayan Q'eqchi villages in Guatemala's Polochic River Valley beginning in the dead of the night of March 15, 2011.
Soldiers evict poor farmers, destroy everything they own.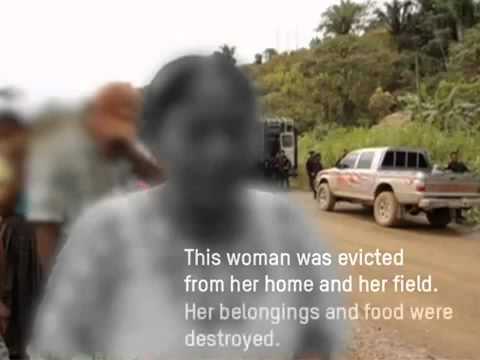 Residents were given an hour to leave. Hundreds of homes were burned down and crops destroyed. About 800 families were left with no shelter or food, many are now camping on the sides of the road. This violence was to clear the way for a large sugarcane plantation to produce biofuel.
"The men fled to the mountains, the women had to find a way to live. People lost everything; they became nothing but cheap labour."
People around the world are resisting land grabs and want change.
What can I do?
December 30 is Finance Minister Jim Flaherty's birthday! Send him a birthday card and remind him why land is so important to people, particularly women living in poverty.
Many investors are fueling a global land rush—transnational companies, banks, hedge funds, private equity firms. But one investor stands out: the World Bank.
The World Bank finances land deals. It also influences how land is bought and sold. So this means it has the power to get the situation under control.
What can Canadians do?
Finance Minister Jim Flaherty's birthday is December 30, and he is Canada's governor of the World Bank. Oxfam Canada is urging Minister Flaherty to speak up on land grabs at the World Bank spring meeting. Send him this birthday card to help us get the message across. Here's how:
Download and print the birthday card.
You can get it black and white, or in full colour. Make sure your printer is set to double-sided.
Personalize the card by adding your return mailing address and signing it.
Fold the card in half along the 'fold' line, and tape it shut.
Drop it in the nearest mailbox anywhere in Canada. You do not need to add a stamp to send a letter to a Member of Parliament.
Ask your friends to share this card on LinkedIn, Facebook, Twitter, by email or in person. Consider printing off a bunch of letters and leaving them in your staff room or other community space for others to sign and send.
Oxfam Canada is calling on Canada's governor for the World Bank, Finance Minister Jim Flaherty, to encourage the World Bank to help end land grabs.
Ending land grabs is possible, but for it to happen, effective global action is necessary.
Learn more about land grabs and what it will take to stop them.
Send Jim Flaherty a birthday card
StraightGoods.ca