Harper and Ambrose offer contradictory stories while Peter MacKay takes cover.
by Ish Theilheimer and Samantha Bayard
OTTAWA,, December 10, 2012 (Straight Goods News) — The Conservatives were on the defensive today in Parliament, offering shifting stories over the proposed F-35 fighter jet purchase, which has gone from prominent election promise to financial "fiasco."
Media leaks last weekend revealed the true cost of the purchase at up to $46 billion, over 40 years, in contrast with previous Conservative promises and readjusted projections of $9 billion, then $15 billion, $25 billion, and more. As recently as last May, defence minister Peter MacKay told the House that critics of the purchase "have a thinly veiled agenda, which is not to support military procurement." Yesterday, the Conservatives, again, would not put MacKay forward to take questions on the project, opting, as they have been doing for weeks, for public works minister Rona Ambrose, who insisted nothing has been spent on the program despite earlier assertions from MacKay to the contrary.
Ambrose told the House, "Of course, no money has been spent on the acquisition of any new aircraft and we will not purchase any replacement until the seven-point plan is complete. That of course includes a full options analysis, not simply a refresh of work that was already done."
"The Prime Minister keeps repeating that no money has been spent on acquisition," the NDP's Tom Mulcair shot back, "But of course, several hundred million dollars has been spent on the F-35 fiasco. It is as if it was not real money because the product does not exist yet. The reason that it is such a fiasco is because they never defined Canada's needs, they never went to public tender, so there is a basic question of public management involved. Are they going to go to public tender and give it to the lowest conforming bidder, yes or no?"
Stephen Harper, who had looked at ease fielding a previous question from Mulcair on the Nexen purchase, went on the defensive, accusing Mulcair of wanting to undermine aerospace jobs in Montreal. "If he does, he can go explain that to the workers in Montreal."
Later, Mulcair told reporters, "Since the beginning, Peter MacKay has shown that he's an abysmal public administrator, but it's endemic within the Conservative government. They lied straight up about the numbers, they said it was $9 billion, it turns out that it's five times that. There's no way to justify that and that was in the middle of an election campaign. This is about public management. This is about public money. They didn't go to public tender, they didn't for the lowest confirming bidder, they didn't set out the needs of Canada. As this was rolled out, we learned that the F-35 could never have functioned properly in the Canadian Arctic. We had never taken the trouble to define what our needs were. So we weren't able to buy the best product at the lowest price. That's what everyone who knows anything about public administration has been saying. You know, the Conservatives love being in power but they don't like governing. They just find that they can be dismissive and arrogant any time anyone asks them a question."
Tom Mulcair says any fighter purchase must be preceded by a clear definition of needs and open bidding.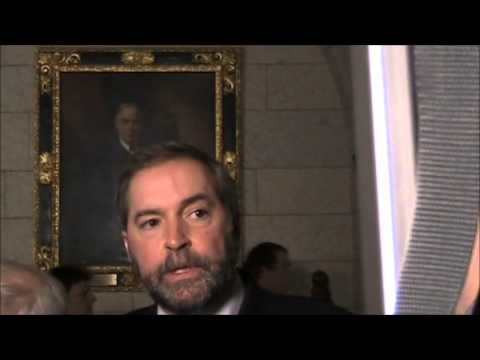 Bob Rae told reporters the purchase represented "grotesque and total incompetence on their part," and that the public has been left in the dark. "One day there is a contract, on another day there is no contract. We're still not clear. Again, we have no, we have no way of knowing is there going to be an open competition? Is there going to be a degree of transparency and openness to the public? What does it mean to start the refresh button? What does it mean to say we're going to be looking at all options? What are the terms and conditions of those options? What are the new conditions being established for the purchase of the plane? None of that is clear."
NDP Military procurement critic Matthew Kellway told SGNews, "As a partner in the joint strike fighter partnership program, they have committed to $710 million to continue to be part of this partnership and to let the Canadian aerospace industry kind of play in the global supply chain for the F-35." He said the partnership would commit the government to another quarter of a billion in liabilities…
"We are close to this government having committed one billion dollars to this program, and, interestingly, Canadian industry has only received less than half of that in terms of contracts. So the Prime Minister's comments today about the hundreds of millions worth of contracts that have come to Canadian companies – well, indeed, there have been $435 million worth of contracts that have come out to Canadian companies, but our government is committed to spending close to a billion dollars to be part of the program."
Kellway said a simple, open process would be of greater benefit in terms of contracts and be less costly to Canadian taxpayers. "The regular procurement process would trigger the Industrial Benefits Policy. There would have to be the equivalent amount spent by the successful manufacturer in Canada. So if we bought planes for $25 Billion, then that policy would require that $25 Billion worth of industrial benefits would accrue to Canada," said Kellway.
NDP military procurement critic Matthew Kellway explains the numbers on fighter jet procurement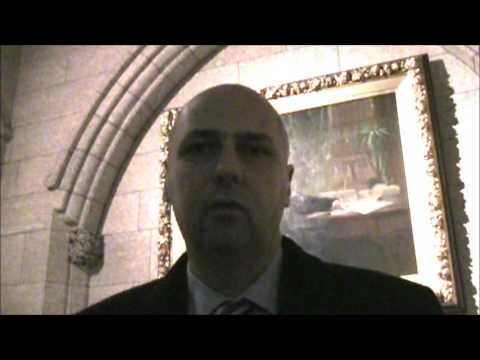 &copy Copyright 2012 Ish Theilheimer and Samantha Bayard, All rights Reserved. Written For:
StraightGoods.ca