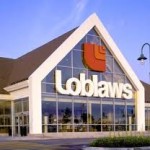 Public Service Alliance of Canada calls for a thousand more food inspectors.
by SGNews Staff
Public Service Alliance of Canada members visited the Real Canadian Superstore on Richmond Road recently to demand a commitment to higher standards of food safety.
A recent undercover video released by Mercy for Animals Canada to the CBC showing flagrant abuse and poor sanitary practice at a Puratone pig slaughterhouse prompted the action. Puratone supplies pig products to several Canadian grocery chains, including Loblaws, which operates Real Canadian Superstores, and Sobeys.
The CBC report noted the video shows "agitated pigs with open sores in tiny cages, adult animals being euthanized using bolt guns in the head and piglets being euthanized by slamming them against the floor."
View the original video.
"Sadly, it is not surprising that slaugterhouses have degenerated into what we witness in the Mercy for Animals Canada video," said Larry Rousseau, PSAC regional vice-president. "The ongoing elimination of federal regulations and the shortage of inspectors, and the reliance on industry self-regulation inevitably leads to such abuses.
We need to prevent another XL Foods-type crisis."
The union said that reearch done by FoodSafetyFirst.ca calls for the hiring of 1,000 additional inspectors and an immediate moratorium on industry self-policing to ensure safe food for Canadians.
PSAC endorsed the need for more inspectors, and called for an end to the practise of gestation crates in Canada.
&copy Copyright 2012 Public Service Alliance of Canada, All rights Reserved. Written For:
StraightGoods.ca