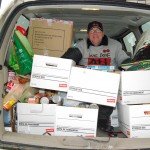 Union members go door-to-door for families in need.
frofrffroomkklfrjdjdj

from Public Service Alliance of Canada
Members of the Public Service Alliance of Canada (National Capitol Region) are out in force collecting food for Ottawa families in need. Union members went door-to-door and were at grocery stores encouraging shoppers to donate to the food bank.
"Our members collected a lot of food going door-to-door in Nepean and Barrhaven. PSAC members will be out at several major grocery stores on Greenbank and Strandherd roads to encourage shoppers to pick up a little bit extra to donate to the food bank during the holiday season," said Dabid Lanthier of PSAC's Ottawa area council.
"We know all communities in Ottawa are in need at this time of year. When one person in our community is affected, we're all affected,"
said Larry Rousseau, PSAC regional vice-president.
Members of the public can drop off non-perishable goods to PSAC's Gilmour Street office until Jan. 2, 2013, or at the Holland Cross office near Tunney's Pasture until Dec. 23.
StraightGoods.ca