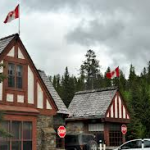 Park fees to increase.
by SG News Staff
Following the Conservative government's $54.9 million cut to Parks Canada, Canadians are facing an increase to the fees they pay to access national parks and waterways, according to the New Democratic Party of Canada.
"Once again, Canadian families are bearing the brunt of the Conservative overnment's half-baked ideas," said NDP environment critic Megan Leslie (Halifax).
"With their budget cuts, the Conservatives pretend to save money with one hand then sneak it out of Canadians' back pockets with the other."
Under the Parks Canada proposal which is open for public consultation until February 18, visitors to Canada's national parks will face higher entry, camping, fishing and boating fees. The increases would occur in step with the cost of living.
"Canada's national parks are a part of our national identity and it is mean-spirited and irresponsible for the Conservatives to increase fees that will prevent many Canadians from enjoying our country's national splendour, from Gwaii Hanaas to Banff to the Rideau Canal," said NDP MP Nathan Cullen (Skeena-Bulkley Valley). "They know full well that just because the cost of living is increasing doesn't mean that household incomes are increasing at the same pace."
&copy Copyright 2013 SGNews Staff, All rights Reserved. Written For:
StraightGoods.ca