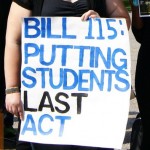 And wind up improving conditions for all.
from the Canadian Union of Public Employees
The Canadian Union of Public Employees is launching a television advertising campaign intended to help build awareness of the benefits of collective bargaining for everyone in Ontario.
The commercial is a reminder of a number of the benefits common in workplaces today that exist in part because they were first negotiated by a union bargaining a collective agreement, including fair wages, parental leave, caregiver leave and workplace safety standards.
The television ad is part of CUPE Ontario's response to the Ontario Liberal government, which has used Bill 115 to attack the democratic rights of workers in school boards to free collective bargaining. The legislation allowed the Minister of Education to override the bargaining process and impose agreements across the province.
CUPE Ontario President Fred Hahn said "The government has already threatened to introduce more legislation, the Protecting Public Services Act , which would be even more damaging, taking away the bargaining rights of workers across the rest of the public sector, and attacking the right to impartial arbitration for those workers who do not have the legal right to strike. We are going to campaign until we receive assurance from all provincial leaders that they will not attack our democratic rights to bargaining and contract arbitration in the future."
The commercial will air across the province on all major television networks, beginning tomorrow, and will run for two weeks.
StraightGoods.ca