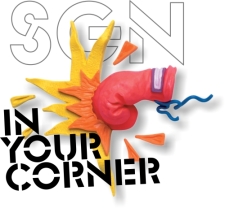 In Your Corner is a private briefing room for SGNews supporters. Recent donors can access this unique service that offers timely, strategic advice on progressive issues.
In Your Corner is a place where the best strategic thinkers in North America help unravel your problems.
They will give you straightforward advice on persuading people, using the new, better way to talk back to the radical Right.
Your In Your Corner password lets you read advice from our panel of professional communication experts. And you can ask the panel questions yourself.
Straight Goods News will then round up recommendations and add a crisply written summary of the experts' advice. It's like having your own agency of writers and strategists on retainer.
What kind of problems will the In Your Corner panel tackle? Anything!
Which headline would be better on this ad?
Is this message a good way of going after our opponents?
How should we respond to this attack on our members?
Is there a better, new way to say public health care is better than private?
Which of these leaflets do you think would work better?
Dozens of experienced people in advertising, political campaigns, union organizing, lobby, polling are on the panel. And we are adding new writers all the time.
To make sure the panel's advice is frank and uninhibited, In Your Corner won't identify the expert giving the advice. Your password gives access to the advice the team of experts gives on all the questions, not just your own..
Donate to Straight Goods News and start using In Your Corner right away.
In Your Corner was launched with support from the Douglas Coldwell Foundation.
StraightGoods.ca