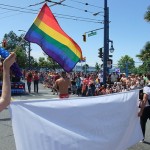 Raise the rainbow flag on International Day Against Homophobia.
by Jody Dallaire
The theme of this year's International Day Against Homophobia is Fighting the Homophobia Web Virus. Cyber bullying has become all too common, even though it's been linked with teen suicide. Of course, online harassment is just one form of the bullying that many gay teens endure.
Cyber-homophobia is homophobia expressed on the internet and the social media. This year's campaign objectives include: 1) fighting web-based homophobia, 2) raising awareness of its existence and 3) raising awareness about the negative consequences that cyber-homophobia has on the health and well-being of its victims.
In Canada, International Day Against Homophobia first appeared as a National Day Against Homophobia in Montreal, in 2003. It soon spread to countries like Belgium, France and the United Kingdom — and 2013 marks the official launch in English Canada.
On May 17, 1990, the World Health Organization (WHO) de-listed homosexuality as a mental illness. Incredible as many young people find the idea now, homosexuality was illegal in Canada until 1968.
May 17 has historic significance for the lesbian, gay, bisexual, transgendered and queer (LGBTQ) community, because on May 17, 1990, the World Health Organization (WHO) de-listed homosexuality as a mental illness. Incredible as many young people find the idea now, homosexuality was illegal in Canada until 1968.
However, as a recent Businessweek article reports, public opinion has swung around faster on gay rights than on almost any other human rights issue. Notably, reported Charles Kenny, "In 1971, the Supremes unanimously dismissed a same-sex marriage case, during an era when many states still criminalized homosexual sex. This time, even some of the Court's more conservative judges gave gay marriage opponents a grilling….The decline of homophobia is a truly global revolution."
Unfortunately, although most people understand and accept that we need not think alike to love alike, homophobic words and actions still persist. The IDAHO (the International Day's acronym) website offers some examples of homophobia:
Homophobic attitudes: Feelings or convictions that gays and lesbians are abnormal or sick;
Homophobia-inspired heterosexism: The false belief that everybody is heterosexual and that only heterosexuality is acceptable and normal;
Homophobic language: The use of vocabulary and expressions that can span from jokes to insults;
Interpersonal homophobia: Non-verbal displays of being ill-at-ease, feeling unsafe or experiencing fear when in contact with gay men and/or lesbians;
Institutionalised/systemic homophobia: Built-in institutional practices that put gays and lesbians at a disadvantage;
Opportunistic homophobia: Being interested in homosexuality solely for financial or personal gain, and not wanting to be associated with being homosexual or with gay men and lesbians;
Internalised homophobia: An often sub-conscious form of homophobia that is a product of education and social values passed down by society, which can affect GLBTQ folks too;
Condoned (passive) homophobia: Silence or lack of response to acts of homophobic language or behaviour that call for someone to intervene and put an end to them; and
Homophobic violence: An extreme display of homophobia that leads to violence and can range from verbal assault to hate crimes.
According to a 2010 opinion poll, most Canadians do understand what the word homophobia means: 97 per cent of respondents in Québec and 96 per cent of respondents in the rest of Canada said they did. This is good news. But we still have a long way to go.
For example, the web site No Homophobes tracks homophobic language on Twitter. Over the last week the expression "so gay" was tweeted 79,809 times, the word "dyke" 30,503 times and the word "faggot" a whopping 348,967 times. Although homophobic statements may reflect thoughtlessness more than any intent to be hurtful, they are hurtful nonetheless. The anonymity of the internet and social media allows homophobic language without accountability.
According to a 2012 study called Cyberbullying, School Bullying and Psychological Distress: "Twice the amount of young lesbians, gays and bisexuals than young heterosexuals report cyberbullying and bullying at school. One third of youth bullied on the Web report symptoms of depression."
Each of us has a number of ways we can help reduce offensive language on the internet and in social media. People can report homophobic statements to ISPs, website administrators and to organizations behind the websites. There is even a Homophobia Registry. For more information you can visit the Day Against Homophobia website at: www.homophobiaday.org.
Greater Moncton is lucky to have a very active LGBT activist community, who do the important work of raising awareness locally. Their efforts are not limited to one day. They organize activities throughout the year.
To commemorate the International Day Against Homophobia locally, Greater Moncton River of Pride and AIDS Moncton are presenting a ceremony at Moncton City Hall at 12 noon on Friday, May 17. Also, the municipalities of Moncton, Riverview and Dieppe will all be flying the rainbow flag tomorrow to commemorate the International Day Against Homophobia.
&copy Copyright 2013 Jody Dallaire, All rights Reserved. Written For:
StraightGoods.ca