Former municipal councillor and star Con candidate had privileged access to Stephen Harper.
by Samantha Bayard
OTTAWA, June 17, 2013 (Straight Goods News) — The government faced new ethics charges and the possibility of being drawn into Montreal's corruption investigations. News of the arrest today of Conservative point man and former Montreal municipal councillor Saulie Zajdel on charges of breach of trust, fraud put top ministers on the defensive, trying to distance themselves from him.
Zajdel has been one of the most prominent Conservatives in Montreal. His party put heavy resources into his Mount Royal election campaign in 2011, which he narrowly lost the seat to Liberal Irwin Cotler. After that, Zajdel was put on payroll by heritage minister James Moore doing ethnic outreach, in what was widely seen as a patronage appointment. Cotler and the Liberals have said that while on the public payroll , he has acted as a "shadow MP" performing MP- like duties in the riding.
Zajdel abrupty resigned from his position working for Moore last spring, a few weeks before Zajdel joined Harper on a trip to Montreal including a public event bordering Cotler's riding. He attended a similar event with Harper in March 2012.
Megan Leslie NDP MP for Halifax questioned James Moore about why Zajdel left his job in Question Period today.
"Mr. Zajdel was praised by the Prime Minister and he was hired by the Minister of Canadian Heritage and Official Languages, and then suddenly, without explanation, he left his lucrative ministerial job. Why?"
Heritage minister James Moore, responding for Stephen Harper with the Prime Minister attending G8 meetings, attempted to distance his party from Zajdel. NDP leader Tom Mulcair scoffed, saying the Conservatives supported his campaigning before and after the election win of Irwin Cotler.
"Up until 2012, Saulie Zajdel still had privileged access to the Prime Minister," Mulcair told reporters. "That's clear because he was still bringing his friends to meet the Prime Minister at little fundraisers that they were holding in Montreal. Up until 2011, he was still on the payroll for Minister James Moore. That's also relevant because today James Moore was trying to be totally dismissive looking at the dates. Mr. Zajdel had left municipal politics in 2009. Mr. Moore would have you to believe that he left in 2011, he had left in '09. And after that, the Conservatives were moving him around and presenting him as the real MP from Mont-Royal. He was their star candidate. He was their guy. They gave him a patronage job after the election in '11. So they can't now pretend that the guy wasn't theirs after 2009. He was theirs. They bear some responsibility for allowing this guy to continue to have that sort of access to the Prime Minister."
Irwin Cotler has chosen not to comment on the issue.
Mulcair on the Conservatives and Saulie Zajdel
"He was their star candidate. He was their guy."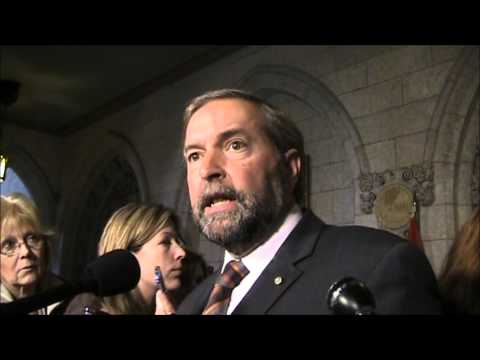 &copy Copyright 2013 Samantha Bayard, All rights Reserved. Written For:
StraightGoods.ca