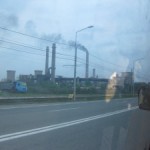 Obliged to report emissions, Canada lowballs, omits leaks.
by Stephen Leahy
Scientists warned last week that failure by Canada, the US and other industrialized countries to act on their promises to reduce climate-heating emissions has put us on the very dangerous path to 4C of global warming. So concluded an update at the UN climate treaty talks in Bonn, Germany that ended last week.

"Canada appears to have vastly underestimated fugitive emissions from gas exploration in British Colombia, putting into question its entire emissions reporting on fugitives," according to the Climate Action Tracker report released last week in Bonn. The report singled out Canada for doing little to reduce emissions and for substantially under reporting fugitive emissions (leakage) from the natural gas sector.
Total greenhouse gas emissions in British Columbia are probably 16-70 percent above the levels currently reported.
"We looked into this after reading your article and wondered if this might be a global problem," said Marion Vieweg of Climate Analytics, a Germany climate research organization.
The US also appears to have underreported their emissions from the natural gas sector but far less so than Canada. Russia and Germany were in the right ballpark based on recent studies of fugitive emissions rates, Vieweg told this reporter.
A two-part DeSmog investigation published in May revealed that British Columbia's fugitive emissions were very likely 7 to 10 times greater than reported. Natural gas (methane) is a powerful greenhouse gas and leaks out of hundreds of thousands of points from the wellhead to final use the industry acknowledged.
It is very difficult to get good data on fugitive emissions and the links in the story were very helpful she said.
Total greenhouse gas emissions in British Columbia are probably 16-70 percent above the levels currently reported — based on analysis by Climate Analytics, the Potsdam Institute for Climate Impact Research and Dutch-based energy institute Ecofys, the three organizations that produce the Climate Action Tracker (CAT) updates. That analysis is based on the latest findings on the real share of gas leaking into the atmosphere.
CAT updates compare countries' carbon emissions reduction pledges and their actions to assess progress in reaching the universally agreed on goal of keeping warming below 2C.
Last year's Climate Action Tracker update said Canada was "playing with numbers" and exaggerating its progress in reducing emissions.
Last year's CAT update said Canada was "playing with numbers" and exaggerating its progress in reducing emissions.
This year analysts at CAT took a close look at Canada's fugitive emissions reporting and discovered they were impossibly low — less than half of the very lowest science estimates. Canada is legally obligated to accurately report its annual emissions the UN.
Canada reported just 24 million tonnes (Mt) of CO2 equivalent emissions from fugitives in 2010. A CAT analysis reveals those emissions were likely between 52 and 236 Mt.* That's a huge difference of between 28 to 212 Mt. It would be like forgetting to count emissions 5 to 22 million cars. (Avg: 5.1 ton CO2/vehicle/year)
Canada told the UN its total emissions were 692 Mt in 2010 but were more likely 8 to 31 percent greater.
"The climate warming from those emissions is real even if you fail to accurately count them," said Vieweg.
This failure to accurately account for fugitive emissions also means Canada has not reduced its emissions by 6 percent from a 2005 baseline as claimed. It also means Canada is unlikely to reach the Harper government's 2020 emission target of a 17 percent reduction compared to 2005. Climate experts say Canada's reductions need to be far higher than Harper's target to do its share in keeping temperatures below 2C.
"Canada is going in the wrong direction," when it comes to tackling climate change she said.
Natural gas has been widely promoted in Canada and the US as a way to lower carbon emissions if replacing coal. While coal has a higher carbon content than gas, the fugitive emissions problem may negate this said Niklas Höhne, Director of Energy and Climate Policy at Ecofys.
As a result of abundant and cheap natural gas the amount of coal used in the US has declined. However US coal exports are up 50 percent. Simply shifting from coal to natural gas locks countries into continued use of fossil fuel technology and may be a barrier to scaling up renewable energy said Höhne.
"We're facing a great paradox," said Bill Hare a senior climate scientist at Climate Analytics.
"Governments' commitment to action on climate is unwinding at a time when the latest science shows the impacts of climate change will be greater," Hare said in a press conference in Bonn.
Carbon emissions keeping rising and billions of dollars continue to be spent expanding fossil fuel infrastructure when we should be going in the opposite direction he said.
"We can easily get to 4C. I'm more sceptical than ever that countries will meet their reduction pledges."
*CAT used the "'global warming potential" (GWP) of 21 to calculate CO2 equivalents (CO2e), the same as the UN and Canada currently use. This means natural gas (methane) traps heat in the atmosphere 21 times better than CO2. Recent science suggests this is really closer to 33 times. And some scientists say that to properly protect the climate the multiplier should be 105.
&copy Copyright 2013 Stephen Leahy, All rights Reserved. Written For:
StraightGoods.ca