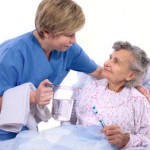 Three hundred and fifty seniors await decision.
from the Canadian Union of Public Employees
While CUPE members at three non-profit home care services celebrate the recent reversal of planned takeovers by for-profit contractors, Operation Friendship, a society for hard to house seniors, awaits word of its fate.
The Redford government recently reversed a decision by Alberta Health Services to grant for-profit agencies the contract for home care for disabled residents at Abby Road, Creekside and Artspace coops.
However, Operation Friendship staff, offering non-profit home care to 350 hard to house seniors, have been unable to determine whether a projected transfer to the Canadian Back Institute, a for-profit company, will take place.
Marle Roberts, Alberta President of CUPE said Operation Friendship began home care services in 2006 after private care providers couldn't offer the necessary level of specialized service.
"Operation Friendship houses people with serious addiction and mental health issues," said Roberts. "You can't just hire anyone to care for these seniors. They can be very difficult to handle."
The Society is having trouble finding out if and when their services will still be contracted to CBI.
"They were supposed to have a conversation with AHS on Friday, but AHS cancelled and said they would reschedule within three weeks," said Roberts.
Transition to the contractor was originally scheduled to take place July 1, however CBI isn't available until July 22. Operation Friendship hasn't been assured of funding past the end of this week. It issued staff termination notices June 24.
"The government has thrown home care into chaos," said Roberts. "They are upsetting a system that works well, that houses the homeless, and they are playing with people's lives."
StraightGoods.ca