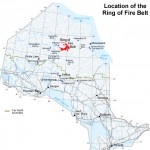 Northern Ontario faces development similar to the Alberta tar sands.
by David McLaren
I'm looking at a map of northern Ontario's Ring of Fire. It's a pretty patchwork of colours in the shape of a crescent moon: deep sea-blue for Freewest Resources, orange for KWG, bright sun-yellow for Probe, grass green for Fancamp, sky-blue for the Freewest/Spider/KWG partnership.
They are some of the thousands of claims staked by mining companies in the Ring of Fire — 5,120 square kilometres in the water sheds of Hudson and James Bays and chock full of chromite, nickel, copper and zinc worth well over $100 billion. That's a sizable chunk of boreal forest, itself a carbon sink of the order of the Amazon rain forest.