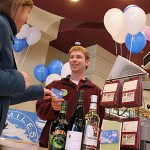 Half of all the workers in Toronto have part time jobs.
by David McLaren
Ontarians got a reprieve over the Victoria Day long weekend. We get to drink our booze and have it too — or at least go to the nearest Liquor Control Board of Ontario store and buy more. But what did LCBO workers get? They got a small signing bonus ($400 for most), a modest 1.9 percent wage increase and a promise to create more full-time jobs.
What most people don't realize, and what the media did not report, is that this strike was about part-time work. More than 60 percent of LCBO workers across the Province earn relatively little and receive even fewer benefits. They are on-call with two hours notice, their hours can be changed on a whim and they take home a wage that, for a family of three, hovers around the poverty line.
Job numbers might be up, but the economy is not.
This is a precarious existence and it has become a North American scourge. Fully half the workers in Toronto are part time. That suits the bottom line of their employers — for one thing they don't have to pay into OHIP. No wonder the LCBO, last year made a profit in excess of $1.5 billion.
No wonder food banks are running out of food. More people are using them to make ends meet. No wonder the economy is stalling. Who can afford to buy stuff when you're living pay cheque to pay cheque? Job numbers might be up, but the economy is not.
If big box stores would roll up their prices just a little so that we paid 15 cents more every shopping trip, they could raise over a million people in the US and Canada out of poverty.
Fifteen cents. But they won't do it. That leaves workers but one choice: unionize.
&copy Copyright 2013 David McLaren, All rights Reserved. Written For:
StraightGoods.ca