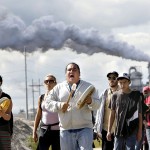 Alberta First Nations and supporters trek annually to heal toxins on their land.
by Kristin Moe
The column of people stretched out along the road that cut a straight line through the desert, and disappeared into a dusty yellow haze. This was an unnatural desert, human-made. A few decades ago, it was boreal forest, deep and cool. Now it's gray sand — a byproduct, I'm told, of the tar sands refining. The desert stretches out to the horizon, and seems to have no end.
August 4 was the third annual Healing Walk through the tar sands, an eight-mile trek through one of the world's largest ecological dead zones. Hundreds gathered from all over North America to support members of native communities who are on the front lines of the tar sands fight. They come to heal not only the land, but themselves. Among the walkers were several residents of Fort Chipewyan, one of the communities hit hardest by industrial contamination of water and air. Cancer rates there are abnormally high.
This is their traditional land. And while the Alberta tar sands is the biggest and perhaps the most notorious example of extraction on indigenous territory, it represents a universal trend. For indigenous communities, it's not about real estate. It's about a culture and an identity that is woven so tightly into the physical landscape such that the two cannot be separated. When one is poisoned, as this land is, the other cannot survive.
Roland Woodward is an Elder from Anzac, a small community in the middle of the tar sands. "I grew up on this land," he says. "I don't imagine the sick people. I know that the oil sands are causing health concerns. So that's why we started the Healing Walk: to heal the land, heal the people."
The tar sands cover an area about the size of New York state, and much of that has already been leased for extraction. While at the moment mining operations have only uncovered between 200 and 300 square miles, government and industry seek to accelerate that in the coming years.
Young Ta'Kaiya Blaney of BC's Sliammon First Nation wrote and sings this protest against the proposed Northern Gateway oil pipeline.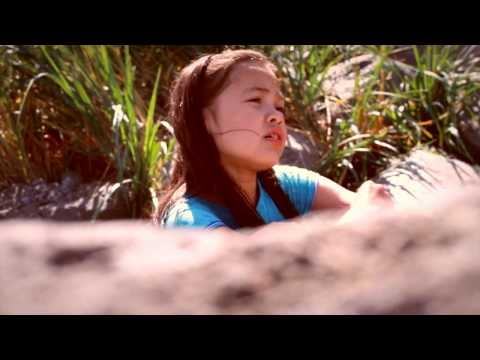 The hot wind mixed the sand with noxious fumes that billowed in from a processing plant operated by Syncrude, the largest extractor of tar sands oil. People complained of headaches and a dry scratching tightness in the backs of their throats. Natives and non-natives walked together, talking, laughing, and stopping together to pray. Mothers pushed children in strollers when they were too tired to walk. After all, it's their generation that will inherit this fight.
From passing company trucks, mine workers honked their approval of the march.
I was surprised by what seemed like friendly honks of the trucks as they thundered past us along the road. A woman from Idaho agreed with me: at similar events in the States, we're routinely met with counter protests, anger, verbal abuse. But by and large, the drivers of these trucks — working 12-hour shifts and many living in the crowded, dreary work camps we passed along the way — were supporting us. I turned to my walking companion, Mike Mercredi, who spent 10 years working in the oil patch. Where do these truck drivers stand? I asked.
This is our traditional territory and they know that, he told me. What's more, many of them agree with us in principle, and they can see with their own eyes that this destruction is out of control. He said that he occasionally gets words of encouragement — a furtive, whispered, "Good job, Mike" — from fellow workers who aren't able to support him publicly.
Mike left his job when he started making connections between the recent crop of cancers in his family in Fort Chipewyan, which has now gained notoriety for being the community that sounded the alarm about rare cancers and deformed fish. He's been speaking out about the tar sands ever since, and is working on youth programs to reconnect young people with their culture, language, and lands.
"Do you have hope?" I asked him.
"Hope? No. No, I wouldn't say that." He paused. "Hope is dangerous."
Hope, he told me, implies uncertainty; it means that your success is dependent on other factors, and that there's a chance of disappointment or failure. "Here, we're not hoping. We're doing. With so many people here to fight with us, we're already making a difference."
I looked out at that long column of people who had come so far to trudge down this long, bleak road. Despite our numbers, we looked small, dwarfed by the vastness of the deserted landscape. But I couldn't help it: I felt a twinge of hope.
&copy Copyright 2012 Kristin Moe, All rights Reserved. Written For:
StraightGoods.ca