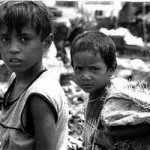 An old photo helps a grown-up foster kid reclaim his Self.
There are things that come to you suddenly in life that you don't expect. Sometimes the surprises are difficult, and demand the most of you in order to navigate your way to peace with them. Other times all they ask you is reflection. All they ask of you is a commitment to time in order to flesh out your insides with the definitive impact of their arrival. As I get older I've become better at both but much prefer the latter.
There's a picture that occupies a special place on my desk, within easy reach. I take it down now and then and look at it. It's an old black and white photo obviously taken with am early 1960s model Kodak camera. Grainy and faded, the photo has a quality of light that makes it magical. It's a picture of a small boy and girl with their arms around each other.
The boy in the picture wears a half smile. He's standing in a fenced backyard squinting at the camera as though it's something alien and he's unsure of what to expect. He's wearing pants rolled up four inches at the hem, suspenders and a nondescript shirt. His runners are worn and old looking. He's small with a severe brush cut.
The girl beside him is the same height. She's dressed in saddle shoes with white socks, cowboy style jeans rolled up mid calf. Her hair is cut in a tomboy style with long bangs and she's smiling at the camera like a thing she's used to.
The year is 1963. I am the kid with the rolled up jeans and suspenders.
The year is 1963. The girl is my foster sister. I am the kid with the rolled up jeans and suspenders. I am a foster kid and I'm nearly seven years old. That means the photograph is nearly fifty years old and it's the first time I have ever seen it. The kid in the picture has been a stranger until now. When I look at him there are pangs of regret, of loss and of a time in my life that I never really fully occupied.
Oh, I know who he was. Years of therapy have allowed me to see him in my mind's eyes. I've held him, comforted him. I've told him that everything would be all right, that he was safe and that he wasn't going anywhere alone anymore. I talked to him about dark and lonely nights. I spoke to him about how light when it comes can chase the darker things away. I spoke to him about permanence and home, belonging and security. Through all of that, I know him and he knows me.
But I had never seen him. I had never seen the squint, the rough home hair cut, the outsized jeans and the face unfamiliar with smiles or the idea that something could be captured forever. He had only ever been a sea of feelings I carried from all those years. They were feelings of losses I couldn't understand, of an emptiness at the core of me I had carried all my life but had never found the words for.
The boy in the picture lives in every line and squint and half smile of the man I am at fifty six.
He sits squarely in my palm like a treasured thing now. I have the photograph. It's mine to keep. I never knew that it was possible for someone to give you years. I never knew it was possible for someone to transport you through time and space. Yet they did and the boy in the picture lives in every line and squint and half smile of the man I am at fifty six.
See, I was a foster kid. I was a small Ojibway kid cut off from everything that was supposed to be mine. I was lonely and filled with pain. You can tell that by the eyes. No one knew that about me then. I was just a kid. I existed in files; files that no one shared with my foster family, me, school teachers or anyone who had anything to do with me. No one, not even the kid in the picture himself, knew his history.
No one knew about my night terrors. No one knew about pain I carried in my body. No one knew how damaged I had been by things I was defenseless against as a toddler and an infant. The terms, "Children's Aid" and "care", didn't seem to match up much for me or thousands of other foster kids, then or now. As long as they exist only in files that will never change.
The boy in the picture lives in me. He just doesn't carry the pain anymore. I comfort him very day. I heal him and he heals me. Together we give ourselves a new past by creating a better day today. I belong somewhere. I'm loved. I smile at cameras. The child is father to the man.
&copy Copyright 2012
Richard Wagamese
, All rights Reserved. Written For:
StraightGoods.ca