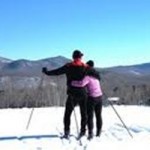 Drifting through powder snow together brings true grace.
by Richard Wagamese
November is magic time at our house. Sometime in late October I've already started watching the weather forecast at our favorite ski hill, a forty five minute drive away. That's one of the first things I do every morning once the leaves fall. The accumulation of snow is vital to my well being because that hill opens around the middle of the month — an event that is right up there with baseball's spring training for me. That's huge.
As the base of snow deepens I get more excited. See, my wife and I just plain love to ski. For five months when those long, plunging mountain runs are open, we're in seventh heaven. There is nothing in our lives that nourishes us so much as skiing. We literally live for it. Just the idea of skiing is exciting. Ironically, I first came to BC in 2002 to get away from winter. Now I can't wait for its arrival.
Skiing looked like an everyman kind of thing to do, and I was keen to try it. One lesson and I was hooked.
My wife first talked me into trying skiing in March of 2006. I was 51 then, and far too old for something as seemingly dangerous as that — or so I thought.
Besides, skiing had never seemed like a very Native thing to do. I'd never seen our people represented on national teams or anything. Plus there was the whole outsider's view of an expensive, trendy, elitist activity meant primarily for wealthy white people. So I'd pooh-poohed the act of skiing for a long time.
We went to the hill so I could look things over, on a perfect sunny winter's day. The first thing I noticed was families. Then I saw very young, very small children blasting down the side of a mountain without poles. Then I saw seniors, overweight people, and even a handicapped woman on a ski cycle. Skiing looked like an everyman kind of thing to do, and I was keen to try it.
One lesson and I was hooked. I'd been a hockey player for most of my life so I loved the feeling of speed and careening around at full tilt. The idea of learning to fly down a hill was wild and outrageous and just plain fun to think about.
I learned on the Bunny Hill. That was a small hit to my masculinity. The shame only lasted a moment though because I was soon sliding down a mountain. Again, the idea of it was wonderful.
After two hours we were set free. My first ride on a lift chair was awe inspiring. Even though we live in the mountains I'd never been carried up the side of one. I was excited and a little scared at the same time. That first run looked incredibly steep. I forgot everything the instructor had told me. I fell a few times, but I made it down. I could hardly wait to go back up again.
Becoming graceful (or something resembing graceful) took a long time. We were into our second season before I got a glimmer of that. Once I could put my skis parallel and get some speed going, the thrill was addictive. I developed muscle memory so I could swing in and out of turns effortlessly — that took some doing — and there was always the sheer steepness of the slopes to consider. I came to love steep and fast. I became a skier, maybe not a great one, but certainly enthusiastic
But there was also the feeling of being out on the land, the peace and the quiet when we stopped to catch our breaths. That was as magical as the feeling of shushing down the mountain. I guess, more than anything though, it's the feeling of having discovered something magical together. That's where the true grace comes. My wife and I took up the adventure of learning to ski together and it became another entry we made into another part of the world, another magical doorway.
That's the true joy of skiing for me. For five months my wife and I are bound up in something we both truly love — separately and together. It's an active thing. It involves the land and the world. It involves ritual – we love the ritual of preparation and the journey to the hill. We love the idea of being wrapped up together in something that fills us both with childhood glee and adult contentment all at the same time.
So my ski dreams start early, way before the snow falls. They involve adventure and thrills. But they also involve the look on Debra's face when we climb on the lift for the first trip up the hill every year. They involve her laughter. They involve the feeling of chasing something grand and wonderful — together. That's not just a Native thing, it's a human one.
&copy Copyright 2012
Richard Wagamese
, All rights Reserved. Written For:
StraightGoods.ca