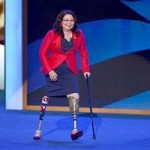 New majority of US voters more perceptive and open-minded.
by Penney Kome
On November 6, US citizens not only voted to re-elect Barack Obama, they also passed progressive measures in several states. According to Avaaz, Americans voted for "6 awesome things", including:
Washington, Maryland and Maine recognized same-sex marriages;
Montana and Colorado slapped limits on corporate campaign spending;
Montana and Massachusetts approved medical marijuana while
Colorado and Washington voted to legalize marijuana and tax it.
In other words, voters rejected many of the Tea Party's hot button issues.
More, voters elected remarkably diverse candidates, including more women than ever: 20 to the Senate, and 77 to the House of Representatives. Elizabeth Warren became the first woman Senator from Massachusetts. New Hampshire elected a woman governor and is sending four women to Congress, two Senators and two Representatives.
After the free-marketers' rising tide did not in fact lift all boats, the tide of public opinion seems to have turned around and started flowing the other way.
The Washington Post reports that, in the next sitting of Congress, the "200 Democrats of the House will include 61 women, 43 African Americans, 27 Hispanics and 10 Asian Americans. Five will be openly gay, and one bisexual." Hawaiians elected Mazie Hirono to be the first ever Asian-American woman elected to the Senate, and also Democrat Tulsi Gabbard as the first ever practicing Hindu to the US House of Representatives. Democrat Tammy Duckworth, an Iraq war veteran with prosthetic legs, defeated Republican Senator Joe Walsh.
At CNN, commentator (and former White House staffer) Van Jones noted that voters were rejecting conservative initiatives, and suggested viewers were seeing "a backlash against the backlash." Funny, that thought had occurred to me too, last August, when I started this essay. Then I called it, "Reversing the backlash." Mounting evidence has made me change the title.
Of course, Barack Obama's re-election to the US presidency now tops the list of events that indicate (to me) that we are seeing a sea change. Forty years after Ronald Reagan and Margaret Thatcher, free market economics theory faces moral bankruptcy. The free-marketers' rising tide did not in fact lift all boats, and the tide of public opinion seems to have turned around and started flowing the other way — especially the river of social media, where progressive analysis seems to surface much more often than in the major media. But major media have paid attention to these scandalous stories too.
Let's consider a few news items where public reaction to the original incident took unexpected turns:
Taliban bullies: People throughout Pakistan — and around the world — held public demonstrations in support of Malala Yousufzai, after a member of the Taliban forced his way onto a school bus and shot the 14 year-old girl in the neck, to stop her championing education for girls. [News! The Pakistan government declared "Malala Day" and announced it will distribute stipends to three million families who can show they send their girls to school.]
Medieval science: During the US election campaigns, Republican Senator Todd Akin (Missouri) and Senate candidate Richard Murdock (Indiana) caused huge furors and lost their elections after insensitive comments about conception following rape.
Double standards: Radio shock jockey Rush Limbaugh's attempt to humiliate law student Sandra Fluke blew up in his face. On air, he repeatedly called Fluke a "slut" and a "prostitute" because she argued before a House committee that any health care plan should pay for contraception and other gynecological services. Over the next few days, his filthy allegations grew wilder and wilder. But he was the one shocked this time, when public outrage convinced advertisers to withdraw their sponsorship. University faculties condemned him. Limbaugh issued a rare apology, but critics agreed that, "This time, he may have gone too far," The Week [UK] reported. [By the way, Sandra Fluke spoke brilliantly at the Democratic Convention.]
Susan B Komen Foundation lost public goodwill and significant donations after the public learned that it had cut its grant to Planned Parenthood – which funded Pap smears and other cancer tests — on the grounds that (the US) Planned Parenthood clinics also performed abortions. The public was furious — but with Susan B Komen Foundation, not with Planned Parenthood. Donations and public support dropped significantly. The Foundation CEO stepped down to another position in the company, and the President left altogether.
Actually, the Susan B Komen Foundation incident marks my Continental Divide, the moment when I noticed that the backlash was running down the other side of the slope. After a couple decades of media strongly preferring pundits who blamed women for everything, from high unemployment rates to Big Government, suddenly both news reporters and commentators were outraged that the Foundation would withdraw essential health care on such grounds — which actually seemed to reflect public opinion.
Similar reverse backlashes are happening in Canada.
Similar reverse backlashes are happening in Canada. During the Alberta election last April, the newcomer Wildrose Party seemed to have momentum, until media started interviewing some of the newbie Wildrose candidates. Even in conservative Alberta, public opinion went harshly against Allan Hunsperger's website warning that gays would go to hell, and Ron Leech's attempts to explain how being white is a political asset.
The People are speaking. They are finding their voices, in pithy Facebook posters and Twitter snark. And right-wingers are running into what business people call "pushback" — resistance. Their zealotry and name-calling no longer stampedes public opinion.
Stunningly, neither does money, apparently. Probably the final accounting of 2012 election costs will show that Republicans and their supporters outspent Democrats and their supporters many times over — but the Democrats won. Now a great accounting is due. Republicans and their supporters are going to want to know where all that money went. Watch what happens to Karl Rove, who collected hundreds of millions for lobbying and attack ads, and did not deliver even one seat. If I worked at the Fraser Institute, I'd start looking over my shoulder.
All the Republicans got for re-asserting control over women's sexuality was an eighteen point gender gap (up from 12 points in 2008) in Obama's favour.
David Sirota of
Salon Magazine
describes the election results in Colorado as an earthquake of sorts: " The presidential election results from this formerly deep red state comprise only a minor part of the tectonic shift," he writes. "…the big square-state story is that a once-dominant Republican Party is utterly marginalized, an autocratic, top-down Democratic Party establishment is at the mercy of its activist base, and the state's corporate elite are no longer able to fully dictate political destiny."
The tide is turning, my friends. Gravity has turned upside down, and outrage flies in a counterdirection. The Republicans got down and dirty, and spent more money than anyone's ever spent on a campaign. But in the age of Kim Kardashian's sex tapes, re-asserting control over women's sexuality just earned them an eighteen point gender gap (up from 12 points in 2008) in Obama's favour.
Americans have rejected the cheap allure of easy credit and predatory job markets, opting instead for the promise of stability, a strong middle class, and live-and-let-live instead of dog-eat-dog.
&copy Copyright 2012 Penney Kome, All rights Reserved. Written For:
StraightGoods.ca