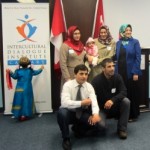 The Intercultural Dialogue Institute just wants to talk.
by Penney Kome
Ten Alberta politicians spoke at the mid-afternoon launch of the Calgary Intercultural Dialogue Institute's new office and meeting space. An hour later, two MLAs were still holding court in the rug and tapestry-lined sitting room just off the main office: veteran Conservative MLA Wayne Cao, and a relative newcomer, Manmeet Bhullar, Minister for Service Alberta.
Bhullar is something of a phenomenon, having been the youngest-ever (elected at 28, appointed Parliamentary Assistant, appointed Minister) at least as often as he's been the first turbaned Sikh to be so successful in Alberta politics. We chatted only briefly, though. As minister, he had to be back in Edmonton the next morning.
Bhullar and Cao were explaining how the Alberta government works to Malik Muradov, Branch Director of the Calgary IDI. Muradov would seem to have a good grasp of the basics already, considering how many Calgary politicians made brief appearances at the launch: MPs Shory Devinder and Michelle Remple; Alberta Ministers Bhullar (Alberta Service) and Teresa Woo-Paw (International & Intergovernmental Relations); MLAs Donna Kennedy-Glans, Bruce McAllister, Darshan Kang, Rick Fraser, Sandra Jansen, Moe Amery, and Ward 5 City Councillor Ray Jones.
Whirling dervishes at Istanbul central train station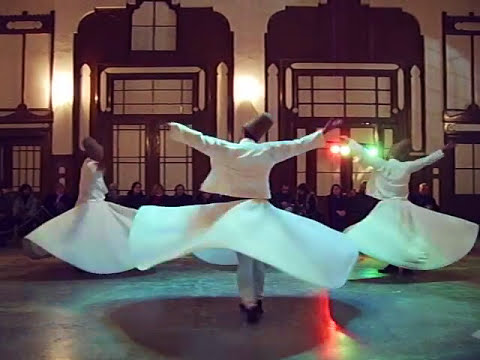 Here was the IDI's purpose — promoting cross-cultural awareness — in action. Young Ayrek, a volunteer, took the opportunity to ask Cao's opinion of borders tightening within the European Union. Cao asked if Turkey has been accepted to the EU yet, and Ayrek said no. Turkey has adopted all of the European Union's human rights requirements, he said, and yet has been waiting in the cold. "You might be lucky," Cao joked. "This might not be the right time to join."
Cao, an adult survivor of the 1975 fall of Saigon, has been elected to the Alberta legislature five times since he entered politics after retiring early from his job at Shell Oil. For him, nationality is where your loyalty lies, and that's usually where you live. He talked about a family reunion where his scattered family gathered in California from their homes all around the globe. When the topic of hockey came up, one of his relatives pointed to Cao and said, "Ask the Canadian."
"And that's what I am," said Cao. "I'm the Canadian. I believe in multiculturalism, but I don't believe in multinationalism." To Cao, your home is your nationality. Ayrek frowned. From the Turkish perspective, the Eurasian perspective, he asked, "But what about Guest Workers?"
Such are the knotty conundrums that the modern immigrant must ponder. The Calgary Intercultural Dialogue Institute offers many ways to gain insight into the immigrant experience, include panels and workshops on integration; inviting non-Muslims to join local families in evening dinners that follow daily Ramadan fasting; celebrating Noah's Ark by distributing (free and delicious) Noah's Pudding to community groups; producing the annual Turkish Festival at Eau Claire Plaza, and intercultural trips to Turkey.
The Gülen movement is a transnational civic society movement dedicated to hizmet (altruistic service to the 'common good') with supporters in Turkey, Central Asia and increasingly in other parts of the world.
As well, the IDI and its companion organizations across Canada celebrate the Gulen Movement. As Wikipedia explains, "The Gülen movement is a transnational civic society movement inspired by the teachings of Turkish Islamic scholar Fethullah Gülen. His teachings about hizmet (altruistic service to the 'common good') have attracted a large number of supporters in Turkey, Central Asia and increasingly in other parts of the world. The movement is mainly active in education and interfaith [and intercultural] dialogue; however it has also aid initiatives and investments in media, finance, and health…"
Not all reports have been so favourable. A Speigel report last August noted that Gulen "likes to present himself as the Ghandi of Islam." The article said that some of his followers tithe (donate ten percent or more of their income) and that some communities' successes have been quite profitable.
"…Gülen supporters publish Zaman, the highest-circulation newspaper in Turkey, with a European edition and subsidiaries around the world, as well as the monthly magazine The Fountain. They operate TV stations like Ebru TV and Samanyolu TV. Barex, an employers' association consisting of 150 companies in Berlin and the surrounding state of Brandenburg, is also believed to be part of the network…"
Whether because of Gulen or not, Turkish public opinion seems to lean towards liberalism on most issues (even, by Muslim standards, gender equality). Nor is Gulenism confined to the nation of Turkey.
Although the IDI's volunteers include a lad from Colombia, most are youth from a newly revived Anatolia, or Asia Minor. Wikipedia says the six "Turkic" states (ie with large populations of Turkic peoples) include Turkey and also Azerbaijan, Kazakhstan, Kyrgyzstan, Turkmenistan, and Uzbekistan – 'stans (or lands) that are rebuilding after their emergence from the now-dissolved Union of Soviet Socialist Republics.
Fethullah Gulen has been compared to the classic Sufi poet Rumi, and the 2009 IDI Gulen Symposium at Carleton University included a paper about the dialogue between "Sufism and Franciscan Spirituality." Other IDI events have included presentations by real live (albeit young) whirling dervishes: pre-teen girls in long full gowns and very tall hats who spin in place with aplomb for fifteen minutes or more.
Although Sufism has many teachers (Gurdjieff is largely credited with introducing Sufism to the Western world) and many schools, all of them are non-violent and emphasize generosity.
In short, my impression after several years of acquaintance with Muradov and his wife Guljeman, – and the smaller Burc Institute that preceded the Calgary group's joining the national IDI — network, is that the IDI follows a Sufi path, on the mystical side of Islam. Although Sufism has many teachers (Gurdjieff is largely credited with introducing Sufism to the Western world) and many schools, all of them are non-violent and emphasize generosity.
In line with the national IDI, the Calgary IDI's Mission and Vision statements evoke "a cosmopolitan world of peace, tolerance, love and compassion, where the environment and all life is cherished, protected, and improved; religious and cultural fears and hatred are replaced with understanding and respect…" Although the IDI is a civil society non-profit organization and not a mosque – a social change agent, rather than a congregation of worshippers – their vision would probably be at home at any United Church of Canada.

"Where are the moderate Muslims?" demanded the Baltimore Sun after the recent attacks on the Benghazi embassy. The question has been raised over and over again, mostly in right-wing media, who never ask "Where are the moderate Christians?" when the US throws its weight around, or "Where are the moderate Jews?" when Israel overreacts to provocation.
Besides, after 9/11, the public outpouring of hatred and misunderstanding gave moderate Muslims very good reasons to stay low profile. The rise of Islamophobia in the West has made some Muslims living in or immigrating to North America understandably apprehensive about discussing religion or politics with non-immigrant neighbours.
At any rate, one answer to the "moderate Muslim" question is: the IDI. (Actually, not too far from the IDI's new office is another moderate Muslim home: the Ismaili mosque, which serves followers of Aga Khan — social activist Mayor Nenshi's faith.) At the IDI office, moderate Muslims invite concerned Canadians of all ethnicities to come together over sweet thick coffee or strong tea, to sit down and talk. Instead of, saying, spray painting mosques. Or banning Muslim women's hijabs (headscarves). Or rounding up Muslims and putting them in internment camps, as Canada did with the Germans and Japanese immigrants during earlier conflicts.
One instigator of Islamophobia is the late political scientist Samuel P Huntington's book, The Clash of Civilizations. Huntington postulated that the end of the Cold War left religion and culture as primary sources of conflict — a theory often cited to assert that the Western world view and the Muslim world view can never be reconciled — and sometimes used as a rationale for the US attack on Iraq. Of course, this theory has roused vocal opposition from prominent scholars, including Nobel Economics Prize winner Amartya Sen, who wrote vigorously in favour of diversity, as a practical matter and as a desirable outcome.
But Huntington did situate Eurasian Turkey as a possible bridge in between Eastern and Western cultures, as an ancient culture with Eastern roots, now eager to embrace Western standards of living. The Turkish ethic of warm hospitality also powers the IDI's strategy to refute Huntington's central theory – that differences between East and West will inevitably lead to conflict.
Visitors to an IDI event will find tea, handmade baklava and friendly conversation. Oh, and don't be surprised if you run into an MLA or an MP.
&copy Copyright 2012 Penney Kome, All rights Reserved. Written For:
StraightGoods.ca