Omnibus bill's changes to Navigable Water Act affect lives and lands without consultation.
by Ish Theilheimer and Samantha Bayard
OTTAWA, December 4, 2012 (SGNews) — Over 400 First Nations peoples marched on Parliament Hill today to demonstrate their frustration over omnibus budget legislation that affects their lands and rights. When NDP MP Charlie Angus arranged for several First Nations leaders to come to the House to meet directly with natural resources minister Joe Oliver, a dramatic confrontation occurred.
Onion Lake Cree Nation Chief Wallace Fox went nose-to-nose with Oliver and told him about the frustrations First Nations feel about changes to laws like the Navigable Waters Act, which affect their territories. "There's no consultation. There's never been any consultation."
Onion Lake Cree Nation Chief Wallace Fox confronts natural resources minister Joe Oliver in this YouTube clip captured, with poor sound, on a smartphone.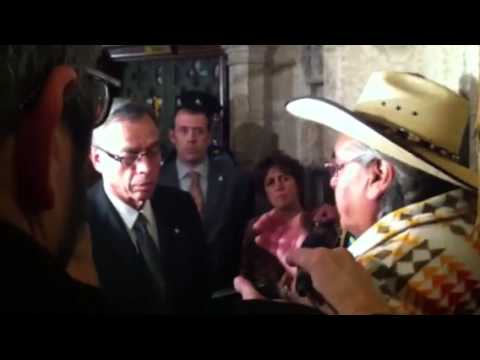 After that, some of the chiefs attempted to enter the House during Question Period but were dissuaded by cooler heads.
NDP MP Charlie Angus explained to SGNews why the chiefs were so angry. "There's a lot of subtext in this omnibus legislation. If you're changing land use rights and the rights of First Nations, then do it in legislation that can be dealt with and you can have consultation. There's not been consultation on these changes. This is supposed to be a budget bill and yet they're ramming everything but the kitchen sink and so people are frustrated."
Charlie Angus talks with reporters about First Nations' frustration.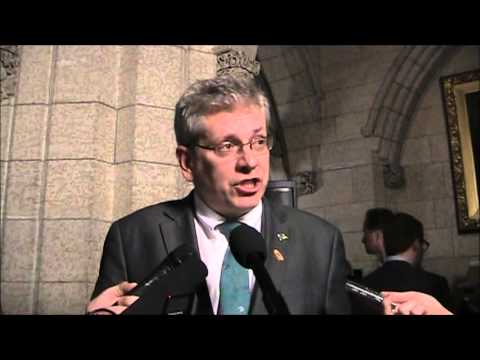 Angus said, "This omnibus legislation is going to strip environmental protection of lakes. It's basically declaring open seasons on all parts of Canada, but especially on first nation territory. No consultation, there's a real frustration. So the desire was for some of the leaders to be able to come in and actually say, wait a minute, 'how come you're pushing this through, this omnibus legislation, you haven't spoken to us,' so I went to Minister Oliver and I just asked him, I said, 'Minister Oliver, there's a number of chiefs out there that would like to speak with you. Would you come out and meet with them,' and he agreed and that's what happened.
Oliver told the chiefs, "I think we can work together as partners to achieve what you want to achieve which is full respect for your rights."
Angus was not impressed. "I think the messages from the hundreds of chiefs who marched representing communities across this country is that this government is ignoring democracy," he said. "They're ignoring people, they're ignoring the first nations communities at their peril. I think there's going to be push-backs if the government continues to act in this arrogant and abusive manner and you see it in the frustration that was on the hill today.
&copy Copyright 2012 Ish Theilheimer and Samantha Bayard, All rights Reserved. Written For:
StraightGoods.ca