Harper stuns House by agreeing with Rae.
by Ish Theilheimer and Samantha Bayard
OTTAWA, December 6, 2012 (Straight Goods News) — On the 23rd anniversary of Montreal Massacre, where 14 women were killed, the Opposition grilled Stephen Harper about government recommendations to loosen access to certain prohibited weapons, including hand guns and assault rifles.
Harper repeatedly insisted the government will not change the classification of "prohibited weapons," saying, "Our government has no intention of changing that category."
NDP leader Tom Mulcair worried, however, that changes may, in fact, be in store. "Mr. Speaker, that is very clear for 'that category,' but he does not mention the others," Mulcair said, in Question Period. "On one hand, the Conservatives have, we might say, loaded the Canadian Firearms Advisory Committee with lobbyists and arms dealers, leaving out the victims and women's groups. On the other hand, they have systematically ignored recommendations from the police and closed the door on the Canadian Association of Chiefs of Police, for example.
Then the entire House was stunned when, on the next exchange, the Liberals' Bob Rae appeared to actually get Harper to agree with him when he asked, "I wonder if the Prime Minister could perhaps tell us if he would now consider, in light of the recommendations which have come out of this particular committee, adding the chiefs of police to the group of people who will be on the committee as well as those who are engaged in combating domestic violence and those who are dealing with suicide prevention."
Harper, replied, "Once again, I want to emphasize that the positions in this report do not reflect the positions of the government. I will take the advice of the leader of the Liberal Party under consideration. Obviously, there is concern with some of the recommendations made in that report and I think that the committee does need some re-examination in that light."
Later Rae told reporters: "I think the Prime Minister was probably taken aback by the lack of — frankly, the lack of political sensitivity and common sense of a committee that would come up with those kinds of recommendations at a time when Canadians are looking in a very different direction. And sometimes you — you know, when you do things, you learn. Let's hope the Prime Minister's learned something."
Bob Rae says police and domestic violence, suicide groups should be included in Firearms Advisory Committee.

"I mean this is an area where, frankly, the public does not share the ideological enthusiasm of the Conservative backbench, that people are just not interested in increasing, you know, access to weapons. They're interested very much in reducing public access to dangerous firearms."
NDP justice critic Françoise Boivin, agreed, highlighting the impact pro gun lobby groups have on the government: "With guns we should always be on the prudent side on the public security side instead of just trying to make it so easy. It's complicated with a car, which is some aspects can be way less dangerous than a gun. I think we should be a bit more prudent but always it is the lobby of gun owners that are a bit more powerful with that government."
Françoise Boivin wants more prudent gun control.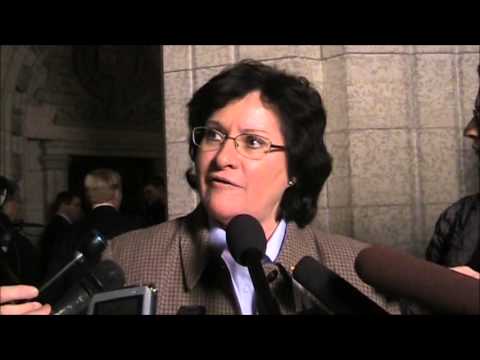 &copy Copyright 2012 Ish Theilheimer and Samantha Bayard, All rights Reserved. Written For:
StraightGoods.ca