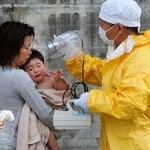 Nuclear reactor accidents leave residents stranded in radioactive zone.
by Penney Kome
Getting news from Japan has been difficult since the 2011 earthquake, tsunami and nuclear reactor meltdowns. The early December Ending the Nuclear Age conference in Chicago was fortunate to hear from three people very familiar with Japan: Akiko Yoshida from Friends of the Earth Japan; Dr Norma Field of Chicago, whose mother was Japanese and who visits Japan regularly; and Setsuko Thurlow, a survivor of Hiroshima.
Akiko Yoshida brought photos, videos, charts and hard-to-find news about how the residents of Fukushima are faring. Her presentations refuted the widespread notion that the people of Japan are too submissive and obedient to attend protest demonstrations.
Indeed, Yoshida's videos of confrontations with government officials showed public feeling running very high in and around the Fukushima prefecture where the stricken nuclear power plant is sited. In one clip, a government official shouts at a worried parent that exposure levels of 100 millisieverts pose no threat to children. The crowd behind the parent roars an angry rejection of this claim. In another clip, a legislator promises swift decontamination of the area, and the crowd surge shows people's impatience at having had to wait so long already.
In normal times, Fukushima's population is 288,000. Some 116,000 persons were evacuated from the area immediately outside the Daichi power plants, said Yoshida, but another 1.5 million people live in what's called the "voluntary" evacuation zone, up to 20 km around the area.
The government offers "voluntary" evacuees about $1000 apiece if they choose to move away from the area. In addition, children and pregnant women living in the area are eligible for a one-time payment of $5000, to help with any health issues they may encounter.
Friends of the Earth has taken geiger counters into both areas, and recorded radiation levels well above recommended maximum levels. FoE reports its findings in milliesieverts, where one millisievert is defined as "the average accumulated background radiation dose to an individual for 1 year, exclusive of radon, in the United States."
Yoshida reported that the government has set 20 mSv a year as the maximum dose allowed for school children. She showed one schoolyard where FoE geiger counters registered 3.8 mSv per hour. "That's the schoolyard," she emphasized. "We didn't get to measure the classrooms or the hallways."
Last May, more than 50,000 protesters surrounded the Ministry of Education, Culture, Sports, Science and Technology (MEXT) building, bringing 50,000 signatures from all over world,
Public anger erupted when the government announced it would "aim for 1 mSv" in cleaning up the radioactivity. On May 23, 2011, more than 50,000 protesters surrounded the Ministry of Education, Culture, Sports, Science and Technology (MEXT) building, bringing 50,000 signatures from all over world, gathered online. On May 27, the government announced a firm target of 1 mSv/year, but, said Yoshida, that's "not yet enforced."
The plume contaminated the middle of Fukushima prefecture, with a doughnut of less-contaminated areas surrounding it. Radiation in the controlled zone was measured at 5.2 mSv, which is off-limits for anyone younger than 18. However, radiation levels vary from area to area, and apparently-normal neighbouring prefectures still have hot spots.
A Friends of the Earth video showed angry parents facing off with government officials. Akikio Yoshida translated on the spot. A parent wept that, "our only option is to stay here, at 30 mSv a year."
A recent inspection of Fukushima children's thyroids found that 1/3 of them had some abnormal growth there, a nodule or pustule.
A recent inspection of Fukushima children's thyroids found that 1/3 of them had some abnormal growth there, a nodule or pustule. "The mothers want to move," said Yoshida, "but the government compensation is very low."
Finding non-contaminated food is a constant worry. Dr Norma Field reported that "there's big division between those who can buy safe foods and those who can't."
FoE has responded with the Poka Poka (Poka means warm, as in hot springs) program, that tries to reduce residents' radioactive body burden by bringing in food grown in non-contaminated zones, and offering local families weekend "holidays" in less contaminated areas.
"The west side [of Fukushima] is less contaminated,"" Yoshida said, "almost the same levels as in Tokyo. We bring in vegetables from the west side or elsewhere in Japan." FoE plans to continue Poka Poka until March 2013.
There is no safe dose of radiation, of course. Dr Jeff Patterson, president-elect of Physicians for Social Responsibility, cited a direct linear dose-response relationship between even very low levels of extra radiation (above ambient levels) and increased rates of cancers. A National Academy of Sciences paper advises that, "Epidemiologic studies have found that the estimated lifetime risk of dying from cancer is greater by about 0.004 percent per mSv (0.04 percent per rem) of radiation dose to the whole body (NRC, 1990).""
"Parents worry that children from Fukushima will suffer discrimination in their employment and marriage prospects," said Norma Field, who has worked extensively with women in the area. "Discrimination against those exposed to radiation goes back to Hiroshima and Nagasaki. In Hokkaido, Japan's northernmost island, girls from the area surrounding the one nuclear power plant are said to be shunned in marriage because their breast cancer rates are so much higher than in other parts of the island."
Field noted that economic polarisation marks Japan. "In the 1970s," she said, "Japan had the smallest income gap of all the highly developed nations. By 2005, its inequality was second only to the US. The reactors were located in Fukushima but generated power for Tokyoites." Similarly, scanty support for "voluntary" evacuation has split up families, in which fathers feel they have no choice but to stay at their jobs while women and children flee to less-contaminated areas.
"A friend says her son, according to school regulation, cycles to school wearing a disposable raincoat," said Field. He hands in the contaminated raincoat, and gets a fresh one for the ride home. Someone has to dispose of all those raincoats. "Why are students going to school in such conditions?" she asked.
"The US policy was to study the effects but not to offer treatment," said Setsuko Thurlow, recalling her experience surviving the atomic bomb blast at Hiroshima.
She evoked the sudden horror. "I was a 13-year-old Grade 8 student working in army headquarters as coding assistant," she said. "We were 1.8 miles from Hiroshima's centre. We had just finished the morning pep talk. Then there was blue and white flash outside window. I was thrown in the air, and woke to find myself pinned in the rubble."
Roughly 100,000 died instantly in the blast. Many, like Thurlow's sister-in-law, were vaporized in the 4000 degree heat. Including the immediate victims, to date some 260,000 people have perished from the bomb blast and subsequent radioactivity. And survivors are still dying of radiation-related illnesses.
"We escaped to our relatives' damaged summer house on the hill," said Thurlow. "Our aunt and uncle survived the blast but then they got sick a week later. They were covered with purple spots. Then their organs rotted and ran out as black fluid. We nursed them until they died. Then soldiers came by and burned all the bodies lying around. They had to turn them so they'd burn evenly. It was a grotesque cremation."
Since the people of Japan have had direct personal experience with the effects of radiation, some conference participants wondered who had managed to sell that nation on nuclear reactors. The answer was that the US played a major role in promoting nuclear energy. Atoms for Peace promised endless access to energy. Since Japan's constitution forbids it to arm itself, the postwar ruling parties have chosen to rely on the US for defence and acceded to US policy demands.
Japan is headed for a national election on December 16. Big changes seem likely. The current government has set out schedule for revising energy policy. The former plan was to increase reliance on nuclear power until it reached half (50 percent) of requirements by 2030 – which would have involved adding 14 new reactors.
The current government offered three options for national discussion:
total phase out of all nuclear plants;
maintain current levels of nuclear power, at about 15 percent of energy requirements; or
keep all operating plants and expand nuclear facilities as planned.
After holding public hearings in 11 cities and collecting 89,000 comments, the government announced that nearly 9 in 10 ( 87 percent) support phasing out nuclear power, and 8 in 10 (78 percent) want all nuclear power plants shut down immediately.
&copy Copyright 2012 Penney Kome, All rights Reserved. Written For:
StraightGoods.ca