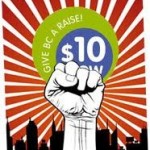 Union activists find ways to refute right wing scare stories.
by Ish Theilheimer
Union activists in Saskatchewan and Newfoundland have won something that will benefit all workers — recommendations from legislative committees to index provincial minimum wages, so they increase, every year, with living costs. Now, they are preparing for a tsunami of opposition from right-wing pressure groups.
Representatives of provincial labour federations in each province worked doggedly for the better part of the last decade to achieve these recommendations, which still need to be adopted by their respective provincial assemblies. In each case, the recommendations came from advisory committees on which labour representatives were outnumbered by management types. In each case, though, the labour side won the day through solid research and quiet diplomacy.
A low minimum portends poor wages all the way up the chain, and actually can be a deterrent to a province's efforts to attract skilled workers.
These recommendations will have a positive impact on the lives of thousands of workers, especially those with the lowest incomes. They include families like President of the Newfoundland and Labrador Federation of Labour (NLFL) Lana Payne's.
Payne said her mother has worked 40 years in service industries, until recently for minimum wage. In Newfoundland, that rate was $6 per hour until 2009, when labour movement pressure forced Premier Danny Williams to raise it. "She worked so hard every day. I was quite conscious of that," said Payne.
Most workers know there is a relationship between the minimum wage and other wages. A low minimum portends poor wages all the way up the chain, and actually can be a deterrent to a province's efforts to attract skilled workers.
Larry Hubich, President of the Saskatchewan Federation of Labour (SFL), says this concern was a big part of the impetus for the Saskatchewan recommendations. Despite the province's expanding resource sector, workers were staying away because its minimum wage was only $9, until last year.
Hubich says Premier Brad Wall, "was running around recruiting, saying 'things are so booming.' 'So how come you've got lowest minimum wage in Canada?' people kept asking. That came out loud and clear in the advisory committee report. And it had become an embarrassment to Premier Wall in his efforts to attract new workers."
The NLFL relied on solid research to refute the right-wing lobbyists. Lana Payne points to the way her federation documented the province-wide effects of increasing the minimum wage from $6 in 2000, to $10 in 2011.
"Normally, the other side says a higher minimum wage is a job killer, that it hurts those it's supposed to help like young workers and women, and that it suppresses job growth," said Payne.
Scrutinizing the increased wage's effect, especially on women, youth, sales and service workers, the Federation's researchers found quite a different effect. "If anything there is a positive correlation between minimum wage increases, employment and youth participation rates," they reported.
Payne is particularly pleased with the labour movent's success in highlighting and improving the condition of working women in the province. "Women were the success story of our experience," she told Straight Goods News.
"Women were the success story of our experience."
She shared a presentation she created last September comparing the number of workers and the number of women who earned more than $12 an hour – first in 2006, with a $6 minimum wage – and then in 2011, with a $10 minimum.
In 2006, 30 percent of the provincial workforce (and 40 percent of employed women) earned less than $10 per hour, as compared with a national average of 15 percent. Nearly six in 10 (58 percent) of all workers earned less than $12 an hour.
Big changes emerged after the 2009 minimum wage increase. By 2011, only 27 percent of the province's women worked for less than $12. "It all can be attributed to minimum wage legislation," affirmed Payne.
"We tried to systematically dismantle every argument employer groups would be making," she explained. Restaurant and retail owners were especially loud in shouting, "Job killer!" But Payne's research revealed a different story. Fifty thousand people worked in those sectors at the 2006 wage levels. "By 2011, they had 56,000," said Payne.
"If we were going to see any dampening," she went on, "it would have been in sales and service. Instead, we saw ten percent job growth.
"If we were going to see any dampening," she went on, "it would have been in sales and service. Instead, we saw ten percent job growth."
She says that since the minimum wage went up in the province, "We're seeing a huge increase in older women who have either entered the labour force or are staying at work for longer periods of time."
In Saskatchwan, chambers of commerce have offered no resistance to the idea of an indexed minimum wage, said Hubich. Many employers see advantages to the concept, because "they can predict what their costs will be," where wages are indexed.
"The laws which govern employment relationships and workplaces have a significant impact on all our lives," begins the preliminary report from the Saskatchewan Minister of Labour Relations and Workplace Safety. "From the minimum wage, to the age of employment, to keeping people safe at work, to ensuring people can form or join the unions of their choosing, to enabling unions and employers to engage in free and fair collective bargaining, all of these touch each and every one of us in some way."
Twenty stakeholders formed a tripartite Committee on Labour Relations and Workplace Safety, charged with reviewing legislation and making recommendations. Committee members represented employers, employees, unions and their central bodies, employer associations, practitioners and the public.
"We were able to get consensus on a number of things," said Hubich, including continued support for automatic dues payment for workers in union shops (Rand Formula). "The employer reps were saying 'Why are we going here [toward abolishing Rand]? This is constitutional, Charter Rights stuff.' The government was afraid we would take them to court and they would lose. And they were still stinging from losing in court on the essential services law."
Hubich says labour representatives, "were able to push back against stuff the Premier had been musing on, like right to work. We worked our asses off in that committee."
Yet it's inevitable that a volley of outraged opposition to this fair and sensible move will come from the usual suspects. "I have no doubt CFIB and friends will be relentless in pushing the government to abandon these plans," he said. "They'll pull out all the stops and scream."
Hubich and Payne show that progressives need to ready to fire back with facts when the right-wing lobbyists bring out sob stories about the effect of raising minimum wages. Unions need to cast the issue in the same terms that won for Barack Obama – that it's not fair for the wealthy few to get rich on the backs of everyone else.
As Lana Payne says,"We need to make sure people at the bottom not being left out, marginalized."
Such instances of carrying the argument by clearly articulating the facts looks good on the labour movement, and helps to revive labour's image. They show how the work that strong unions do benefits everyone.
"I would even have some folks saying 'Why are you spending time on this?' said Payne. "Our job is to represent the interests of all working people. That was written in our constitution 75 years ago, not just those who happen to have a union."
That similar recommendations came forward in Saskatchewan and Newfoundland and Labrador is not entirely coincidental. Payne says the labour federation presidents stay in close touch and have "been feeding off each other. I used the fact that Alberta had indexed its wages as part of my argument." This kind of cooperation, on behalf of all workers, also strengthens labour's image.
&copy Copyright 2012 Ish Theilheimer, All rights Reserved. Written For:
StraightGoods.ca