Government responds by attacking messenger.
by Samantha Bayard
OTTAWA, March 4, 2013 (Straight Goods News) – The Harper government suffered a new international embarassment — despite Canada's wealth, a new UN report charges the federal government with ignoring prevalent and widespread hunger and malnutrition.
The NDP's Djaouida Sellah (Saint-Bruno-Saint-Hubert) questioned health minister Leona Aglukkaq in the House over food security for Canada's poorest people.
"Mr Speaker, the UN Special Rapporteur on the Right to Food has roundly criticized the Conservatives for their incompetence. We know that the Conservatives ignore the problems of malnutrition and health, but now we have learned that by eliminating the long form census they have made the problem worse."
"I will not accept the report from a UN rapporteur who studies from afar," replied
health minister Leona Aglukkaq. "The recommendations would not be affordable for Canadians."
NDP deputy leader and health critic Libby Davies (Vancouver East) scoffed. "An
international expert reports on a real problem in our communities and the Conservatives respond by attacking the messenger," said Davies. "A serious government would recognize that 800,000 Canadians depend on food banks every month."
Aglukkaq side stepped the issue, using it as an opportunity to criticize Davies' private member's bill calling on food manufacturers to reduce the use of deadly sodium.

Mulcair calls out Harper for attacking the messenger and missing the point.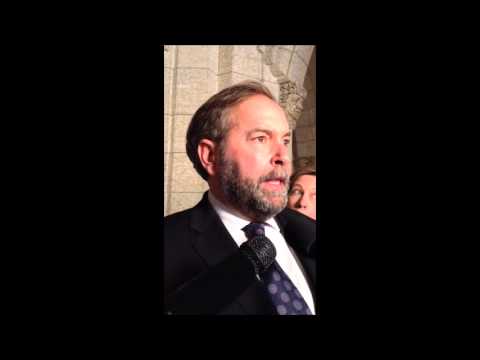 Later, NDP leader Tom Mulcair told reporters, "What's most astonishing with the
Conservatives is its consistent behaviour. But today, it's even more galling than usual. We are talking after all about, about a United Nations Rapporteur.
"Whenever someone tells the Conservative government something they don't want to hear, they attack the messenger. Very personal attack in the House today. They can't have it both ways. In the House, the Minister says somebody's coming from away and telling us what to do and how, how to analyse our problems. But he came here, and while he was here, they were attacking him. Now that he's filed his report, they're saying it's from away.He knew what he was talking about, he did a very good job."
Libby Davies wants to see Harper develop an action plan around food security and hunger.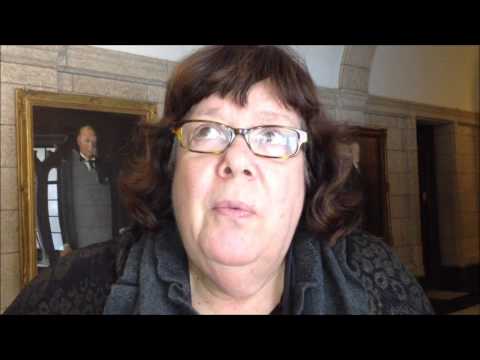 In an interview with SGNews, Davies took Mulcair's points further. "The response
from the minister today — as it has been in the past — is really quite shocking. What she does is, she attacks the UN's report rather than, focusing on the issue itself."
Davies said the report, "flags that food security issues are a huge issue in this
country. Which I think may be surprising to some people because we are a very wealthy country.
"It's actually an issue that speaks to the growing inequality in Canada. There are more and more people who rely on food banks. There are communities that are suffering because they don't have access to affordable, highly nutritious food."
Davies says the government should work with groups and organizations, "building on the UN report to show that they are willing to develop an action plan to deal with good nutrition, to deal with food availability to deal with hunger issues."
&copy Copyright 2013 Samantha Bayard, All rights Reserved. Written For:
StraightGoods.ca