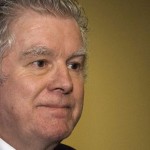 Federal Justice Minister sees no need for public inquiry into decade-long delay in trial.
by Stephen Kimber
So federal justice minister Rob Nicholson isn't the tiniest bit curious/concerned/appalled about what went wrong in the Fenwick MacIntosh case, and why, and what needs to be done to make sure it doesn't happen again.
Last week, the Supreme Court of Canada threw out Fenwick MacIntosh's 2011 conviction on 18 charges of sexual assault and gross indecency, not because he didn't do terrible deeds to at least four boys back in Port Hawkesbury in the 1970s but because the federal justice department, Canada Customs, Passport Canada, the department of foreign affairs, the RCMP and Nova Scotia's Public Prosecution Service botched his case so badly MacIntosh's rights had been violated beyond the possibility of a fair trial.
Fenwick MacIntosh was convicted in 2011 on 18 charges of sexual assault and gross indecency against at least four boys back in Port Hawkesbury in the 1970s. The Supreme Court overturned the conviction
The minister sees no need for a public inquiry. Really?
After the boys came forward with their allegations as adults in the 1990s, the RCMP investigated. Officers laid charges in December 1995. By then, however, MacIntosh had left Canada for a job in India.
It took the Mounties a full year and a half to alert Canada Customs to watch for him. It took another year for Nova Scotia's prosecution service to ask Ottawa to ask India to send him home to Canada for trial. And then another five years — yes, five, count 'em! — for Ottawa to prepare the extradition request. And — hold it, we're not even half done yet — another three years for Ottawa to deliver the request to New Delhi.
During this time, MacIntosh, a known fugitive from Canadian justice, got his passport renewed twice. When Passport Canada turned down one application, MacIntosh appealed. Passport Canada didn't show up at the hearing and a federal court judge "temporarily" overturned its decision. Passport Canada apparently never followed up.
In fact, MacIntosh traveled back and forth between India and Canada on at least three occasions without even being questioned by authorities.
And yet, Rob Nicolson doesn't believe there are any lessons to be learned from a full public airing of how this travesty of justice happened?
Nova Scotia Premier Darrell Dexter has promised an "eyes wide open" inquiry into the province's role in all of this, which is welcome. But given all of the federal agencies involved, it isn't nearly good enough.
&copy Copyright 2013 Stephen Kimber, All rights Reserved. Written For:
StraightGoods.ca