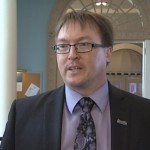 Independent Dartmouth North MLA says he plans to run again.
by Stephen Kimber
The careening train wreck Trevor Zinck's political career and personal life has become has finally flown off the tracks, plunged over the cliff and disappeared into an abyss.
Zinck, who'd promised a vigorous defence of the criminal charges in the MLA expense scandal, turtled instead. On the the fifth day of his trial — after the prosecution had laid out its damning, he-even-stole-a-kid's-hockey-dreams case against him — he pleaded guilty to fraud and breach of trust.
Nova Scotians have a right to be angry. And Zinck deserves to pay for his crimes. But his is also, ultimately, a sad case.
Zinck then promised to fight to hold on to his MLA's job, only to do another 180, hastily resigning his seat after learning he'd lose $51,000 in transitional funding if he waited to be expelled by his fellow MLAs.
Zinck is now vowing to win back his job in the next provincial election…
Nova Scotians have a right to be angry. And Zinck deserves to pay for his crimes. But his is also, ultimately, a sad case.
I met Zinck shortly after he was elected MLA for Dartmouth North in 2006. I'd written about child welfare problems in Nova Scotia, and a group of parents invited me to a meeting to discuss their options. Zinck was there too. He took notes, offered helpful advice, promised support. I believe he followed up.
In the three years since Zinck's expenses became a matter of criminal investigation, I've written a number of critical columns about what he did. Each time, I'd receive emails from constituents who still considered him their champion. There may be fewer of those now that we know the constituents and charities he's stiffed.
Why did it all go off the rails?
The short answer appears to be some combination of alcohol and gambling addictions — mixed with an unhealthy dose of denial. Early on, Zinck acknowledged he'd had "problems," but during his trial he downplayed them. "Every once in a while I go to the casino," he shrugged after the prosecution persuasively connected the dots from his constituency bank account to late night ATM withdrawals at the Halifax casino.
I hope — though his behaviour to date doesn't encourage much — Trevor Zinck will finally pause, take stock of what's happened and why, and seek help.
Not for the sake of his political career — but for his life.
&copy Copyright 2013 Stephen Kimber, All rights Reserved. Written For:
StraightGoods.ca