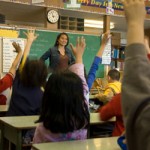 But I think about leaving.
from Our Times and the BC Teachers' Federation's Teacher newsmagazine
It's not a job really; it's what I am. You see, I'm a teacher and have been for 19 years. Other than taking time off in the middle to have my own kids, I have always been a teacher. And I'm a good one. I laugh with my Grade 4 and 5 students each day. I'm quick with a hug or a high five, a granola bar for a kid who's hungry, or a quiet word with a kid who needs that instead. I don't believe in much homework, especially not for nine- or 10-year-olds.
Kids should be outside, in boots and raincoats if necessary, building and digging and mucking about. At past meet-the-teacher nights, I've said to parents, "Go for walks with your kids. Play chess together. Play Monopoly. Watch something on Discovery Channel and then research it together. Snuggle on the couch and read a great book together. It's the relationship you build with the kids now that will hopefully see them through difficult times in their teens, or have them coming to you for advice instead of to their peers. Nothing is more important than that. Certainly not a math worksheet." And most parents agree with me, enthusiastically.
But I think about leaving. I push kids to try things they think they can't do, and to find out more than they've ever known. But how can I meet their needs, and inspire them, every single day? I have 27 nine- and 10-year-olds in my class, including two who can't stop moving; two who would never move if I didn't encourage them; one who prefers complete silence; and 10 who need to talk and discuss and question out loud to clarify their thoughts. I have two students who call out answers and one who'd rather not say a word. One needs this, two need that, and three need something different altogether. Five can write and write and write some more, and four can't get anything down on paper. And that's just today. Tomorrow, with a new lesson, and a new concept, their needs might all be different.
I make connections with kids. I know who's into fishing, who likes horses, and who plays ringette. I've been to watch my students play in baseball playoffs and soccer tournaments, and one wants me to go golfing with him. I'm fortunate to live in the community where I teach, so I run into current and former students at the grocery store or the mall. I get hugs from former students and their parents. Once I got a holler and a wave from a long-ago former student now in secondary school, even as he was surrounded by his mates. And so I think, "How can I leave?"
Sometimes it's the money, and no, it's not what you're thinking. It's not the money I make that I'm talking about; it's the money I spend for things I use in my classroom. I have a classroom library with more than 1,000 books: 700-plus novels and 300 non-fiction books almost all purchased with my own money. Generous families have donated books, and several books have been purchased with bonus coupons from student monthly book clubs. But by far the majority I've bought at garage sales, used bookstores, or online.
And those are just the student books. I have professional reference books that suggest how to incorporate more of this-and-that into my teaching of reading comprehension, hand-writing, math and science, to name just a few subjects. I purchased every poster on the classroom walls, and, yes, even the alphabet that hangs at the front of my classroom. I wonder, do doctors and nurses have to pay for the tools they use to do their jobs in the hospital?
Sometimes it's the time. My school runs from 9 am to 3 pm, but I'm there by 8 am everyday and I'm seldom out before 5 pm. But that's not the end of it, because I usually take work home, often spending another two or three hours in the evening drafting emails or marking assessments. So much marking! Time on weekends or holidays is spent making unit plans or other long-range planning.
I'm fit, but this fall I had a health scare that suddenly made it clear to me that I need to take time for my health, too. I now try to leave work by 4:30 pm two days a week to work out, but it's honestly hard to do every week. And so I think about leaving.
Most years what keeps me going is knowing that I'm making a difference with my students and their families. But every year that teachers are in negotiations for a new contract, I feel that whatever I'm doing, it's not enough. Whatever amount of time I'm devoting to my students, it's not enough. Whatever money I'm spending on the classroom, it's not enough. Whatever work I'm doing, it's not enough. And then, come negotiations, I feel like I'm being asked for more, with the sense that, if I can't do more, reach more, teach more, I'll be asked to leave. Maybe I should leave.
In my classroom, when my students and I are discussing something, I always ask, "Does this make sense? Is it reasonable?" When we make a decision, we compromise. We learn, practice, and live the concept of give-and-take. I hear them using those words in their interactions. It makes sense to them. I wish the adults, during negotiations, would remember this concept. Otherwise, one day, I, and a lot of other dedicated, experienced, and compassionate teachers, will decide that all our time and money could be spent differently, somewhere else, at work that is valued. And that would be a shame. We'd miss our kids.
&copy Copyright 2013 SGNews Contributor, All rights Reserved. Written For:
StraightGoods.ca