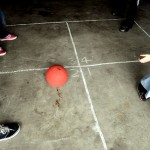 "Stealth privatization" offers recess activities for parents who can pay.
from the Ottawa Citizen
When Dayna Scott's six-year-old son came home from Hopewell Avenue Public School with a pamphlet about a new phys-ed program at recess, it sounded like a good idea. Rohan is a little fireball, and loves sports of all kinds. The "Active Start recess program," the pamphlet promised, helps children six to nine develop the general skills they need to move into any sport.
But when Scott had a closer look, she was shocked. "Register for as low as $41.66 for 6 weeks," it said, "or $124.98 for three sessions." She couldn't believe a program at school during recess came with a fee attached. "I was appalled.
"Recess is part of the school day. Any kid that wants to participate in something at school, or at recess, should be able to, whether their parents can afford it or not."
There are already vast differences between the kids whose parents enrol them in expensive lessons or team sports after school and on weekends, and the children who aren't so lucky, she says. "School should be the one place where every kid can have the same opportunity."
"Active Start" is just one of a growing number of programs offered by private companies at Ottawa schools during recess or lunch hour. Some parents, and the principals who have welcomed the programs into their schools, say they offer kids a chance to learn some great skills, from throwing a basketball to building a rocket. And subsidies have been given to children from low-income families.
The practice raises questions about the entry of private companies into the school day, fairness for children who can't afford the fees, and even the nature of recess: should it be preserved for free play?
The programs have blossomed over time, and it's difficult to know how many exist, since it's usually up to school principals to decide. But paid recess programs are in place at several dozen schools. Active Start, run by a company called SportsCan, sends a coach to two schools.
Another company, The Learn to Play Association, offers 16 programs in more than 30 Ottawa schools, from sports to arts and crafts. For $45 children can take an eight-week course in soccer, basketball, yoga or dance; $65 buys the popular "Squirmies" (making figures from clay); and scrapbooking is $70.
A company called Mad Science runs lunch-hour science programs in 40 schools across Ottawa and Gatineau, giving children the chance to do experiments and learn about everything from dinosaurs to volcanoes.
Mad Science has exploded in popularity in the last couple years. "In Ottawa we're pretty much doubling every year," said Mad Science event co-ordinator Christopher Chartrand. One French-language elementary school in Sandy Hill is running seven Mad Science lunchtime programs. "It's pretty insane. The kids really enjoy learning about science, and we make sure they have fun."
And the kids whose parents can't or won't pay for the programs, or just aren't interested? They're in the playground at recess, playing tag, swinging from the monkey bars. For some parents, that's just as important.
It's ironic that when parents are criticized for over-scheduling their children, organized programs are offered at recess, says Jennifer Small, a high-school supply teacher who has a daughter at Hopewell Avenue school, where she is active in the school council.
"Recess is a time for kids just to let loose and be creative on their own. And quite frankly, it's only about 20 minutes. Do we really need someone telling them what to do?" It may look like the children are just running around, but they are also learning how to get along with others and exercising their creativity, she said.
The coach for Active Start says the program tends to attract children who are less physically adept and not involved in team sports. The program helps them gain confidence to join in at recess and become more active.
The recess programs are voluntary, and usually held just once a week.
Others say the programs may be great, but they are uneasy about private companies offering them for a fee.
If the content is valuable ­— whether it's learning to throw a basketball or making figurines with clay — it should be part of the regular school day, said Erika Shaker, who has a daughter at Mutchmor Public School, which runs both Active Start and Learn to Play programs.
"The question should be: if these programs are so important as a way of really enriching the education and the lives of all kids, should we not provide them to all kids?
"I'm not a fan of stealth privatization of the school system by creating a two-tier system for those who can afford to pay. I find it really sad. Schools are in a fantastic position to provide access to these fabulous programs that kids from lower incomes can't necessarily access."
Jenn Wilson, the chair of the School Council at Mutchmor, said her own son isn't interested in paid programs because he likes recess in the playground too much. But many parents feel pressure to provide lots of opportunities for their children. "And a lot of these kids are overscheduled. So having something once a week at recess takes the pressure off."
Paid programs might also provide a haven for kids who aren't included in games at recess or are less physically skilled, said parent Lori Camilucci, who has two children at Hopewell School. "The schoolyard can be a horrible place if you're one of those kids who dreads recess."
Every parent interviewed, though, was concerned about kids who can't afford to pay for a program at recess.
The idea of programs like Active Start is "fantastic," said Deirdre Kent, who has two children at Hopewell. "I'm very supportive of getting kids active at recess. And it would be great for immigrant kids who've never picked up a basketball. But I think it should just be free."
Kent also wondered how schools decide which companies can offer programming. "You are giving privileged access to a company to make money during the school day."
At Ottawa's English public and Catholic boards, the principals make the decision, sometimes with comments from School Councils, based on the needs of their school.
These programs are not run by the school, emphasized Walter Piovesan, associate director of education at the Ottawa-Carleton District School Board. They are similar to a host of other programs run by private organizations that use school space before and after school and on weekends, he said.
So, for example, it's no different than if a parent checks a child out of school at recess and brings him across the street to attend a piano lesson, or brings the child to a Cub Scout meeting held at school in the evening.
But recess programs seem to inhabit a grey area. They occur during the school day, when most parents assume the school is still responsible for their children, not a private company, notes Small.
All three companies say their employees have police checks, and they provide staff training. By enrolling their children, parents are entering into a contract with a private company, notes Piovesan. The school is "involved, but not necessarily responsible" for children in the programs.
Principals are sensitive to the economic situation of their students, says Mardi de Kemp, the communications officer for the Ottawa Catholic School Board, where 17 schools offer Learn to Play programs.
Paid recess programs might not be viable in schools where it would be impossible to provide subsidies for every child interested in taking them, she said.
"Our principals are very sensitive when it comes to the special nature of their schools, and the more economically sensitive a school is, you can just bet the principals are really tuned into that. They're not going to run a program that might be popular in the suburbs that really can't be afforded inside the Greenbelt."
Officials at Learn to Play and SportsCan say they ask school principals if any children would benefit but can't afford the programs. Active Start has given free spots to between 12 and 20 children in the four years it has run the program, said a spokesman.
At Learn to Play, company president Franco Colletti is proud of his efforts to help underprivileged children. For example, at the request of a principal at a school in Vanier, his company ran a free chess program, with the school only picking up the cost of the teacher, he said.
"The whole idea of a kid that can't do it because he can't afford it is really against my whole ideology."
His company gives money back to schools that allow Learn to Play programs ­— generally an amount equal to 10 per cent of the registration fees. The schools can use the cash to subsidize students or buy equipment.
At Mad Science, the registration fee of $73 for a six-week recess science program is "flexible," depending on the school, said Chartrand.
Some principals have refused to allow paid recess programs because of the fees attached. Colletti says he understands their reasons, but disagrees. Is it better that no students benefit from the programs because some can't afford it? he wonders. In needier areas, there are ways to accommodate kids, such as splitting subsidies among children. "These children and their families would be ecstatic if their child got even two or three weeks out of this."
Colletti points out that other private businesses operate in schools.
"If you are providing the argument that this is a school, and it's almost sacred that a (private) company not come in here and offer something and ask us for money, well that argument doesn't wash. Then take out the lunch lady, take out your pizza days, take out your sub days, all those things are running in schools."
StraightGoods.ca