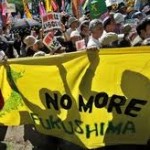 After 70 years, nuclear bombs remain the only real re-use for lethal waste.
by Penney Kome
Along with freak storms, nuclear reactor accidents have moved from being a 100 year event to being regular occurrences. "The Nuclear Regulatory Commission's probabilistic risk analysis claims a meltdown is a once in a 200 year event," said nuclear engineer Arne Gundersen. But the facts contradict the predictions. "There have been five meltdowns in 35 years: Three Mile Island, Chernobyl, and three meltdowns at Fukushima."
Fukushima! As the people of Japan struggle with the consequences of the 2010 earthquakes and tsunami, the ongoing catastrophe at the Daichi nuclear power plants has turned Japanese public opinion solidly against starting up the remaining plants.